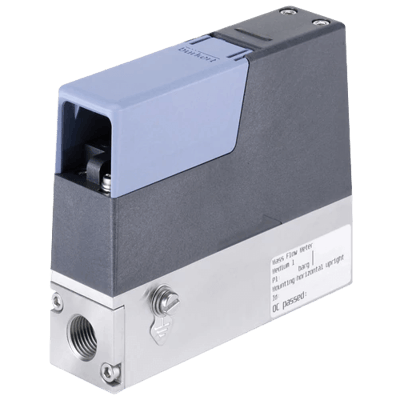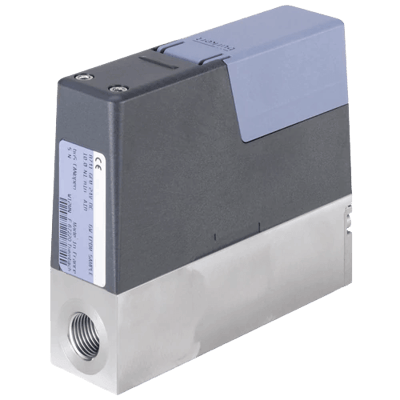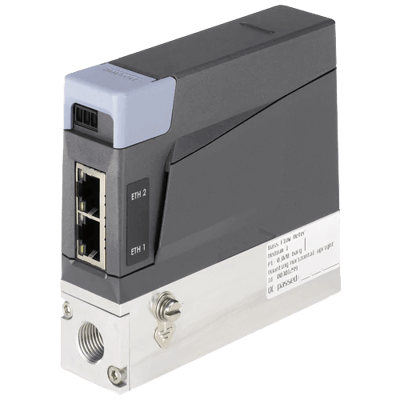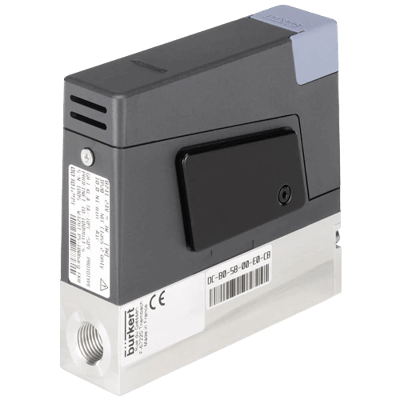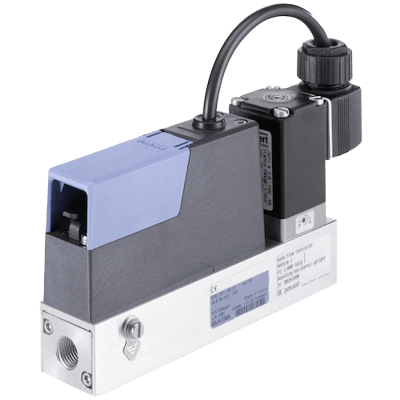 Images are representations only.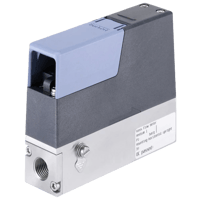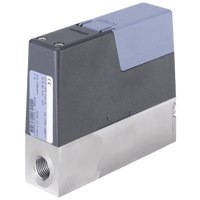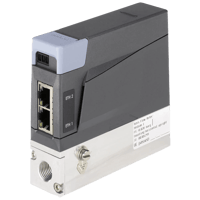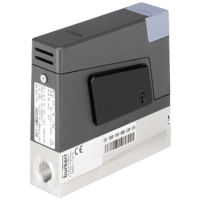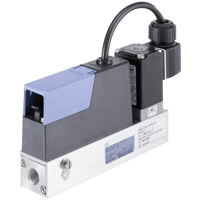 The mass flow controller (MFC) / meter (MFM) type 8741 for gases is available in two versions:

MFC / MFM type 8741 Standard: with Industrial Ethernet or Analog interface, suitable for a wide range of applications
MFC / MFM type 8741 bus / CANopen: suitable for the integration in existing CANopen networks, as well as in combination with the system control unit (SCU) of type ME2X for büS networks.The second option was especially developed for applications with multiple control loops. The büS network technology is based on CAN physics. Up to 32 MFC / MFM can be connected to one SCU. One functionality of the SCU is the translation of the internal, CANopen based communication to industry standards for both Industrial Ethernet and fieldbuses. The mass flow controller / meter can always be switched between büS and CANopen communication. Type 8741 can be configured as MFM or MFC. Optional, up to four different gases can be calibrated.
The thermal MEMS sensor is located directly in the gas stream and therefore reaches very fast response times. A direct-acting proportional valve as regulating unit guarantees high sensitivity. The integrated PI controller ensures outstanding control characteristics of the MFC / MFM. Type 8741 is especially designed for use in cabinets.
Specifications
Ambient Temperature Range
-10° to 50° C (14° to 122° F)
Approvals & Certifications
Communication
CAN Bus
FOUNDATION Fieldbus, CANopen
PROFINET
RJ45" EtherNet/IP (EtherCAT 2 x RJ45)
USB
Consumption
Power Consumption: 1-3 W as MFM
Power Consumption: Max.
Electrical Connectors
Analog: 6-Pin Terminal Block
Analog: D-Sub 9-Pin Plug Connector
Bus/CANopen: 4-Pin Terminal Block
Industrial Ethernet: 3-Pin Terminal Block
Industrial Ethernet: RJ45 Socket
Enclosure, Body Material
Aluminum
Polycarbonate
Stainless Steel
Flow Rate
Control Valve 0.00006 to 0.32 m³/hour (Kvs Value)
Nominal Flow Range: 0.01 to 80 LPM
Function
Close-Tight
Firmware Update
Indication
Device Status: RGB-LED Display on NAMUR NE107
Input
Analog: 0-10 V
Analog: 0-20 mA
Analog: 0-5 V
Analog: 4-20 mA
Input Impedance
Analog: 20 kiloohms (Voltage)
Measurement Accuracy
± 0.3 % of Full Scale after 1 Minute Warm-Up Time
± 0.8 % of Reading after 1 Minute Warm-Up Time
Orifice Size
Control Valve: 0.05 to 4 mm
Output
Analog: 0-10 V
Analog: 0-20 mA
Analog: 0-5 V
Analog: 4-20 mA
Analog: Max.
Process Temperature
-10° to 60° C (14° to 140° F) with Oxygen
-10° to 70° C (14° to 158° F)
Response Time
Settling Time (t95 %): < 300 milliseconds