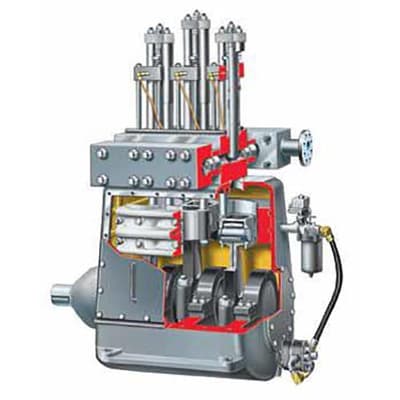 Images are representations only.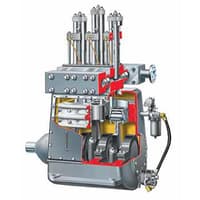 The V pumps include vertical triplex, quintuplex, septuplex, and nonoplex positive displacement reciprocating pumps with very high efficiency and are offered in a wide range of hydraulic, mechanical, and material options.
Features
Sectionalised Liquid Ends Suitable For Heavy Duty Oil & Gas Applications.
Self-Aligning Plungers Ensure Proper Concentricity Within Stuffing Boxes.
Many Valve Styles To Suit All Liquid Types From Clean Liquids To Hard Slurries.
Stuffing Boxes Outboard Of Cylinder Allowing For More Complex Sealing And Piping Arrangements.
Stuffing Boxes Individually Fastened To Liquid Cylinder For Ease Of Maintenance.
Totally Enclosed Power Frame Is Dust And Oil Tight Eliminating Atmospheric Contamination.
Cylindrical Crossheads And Guides Maximize The Load Bearing Area And Reduce Wear, Keeping Replacement Costs To A Minimum.
Various Bearing Lubrication Systems From Splash To Full Pressure.
Specifications
Configurations
Aldrich Vertical Reciprocating Pumps - V
IDP Vertical Reciprocating Pumps - V
High Liquid Temperature Design
Individual Cylinders & Special Manifold Fastening Arrangement to Cope with Thermal Expansion Effects on Plunger Centre Distance
High Suction Pressure Design
Special Crosshead Pin Bearings & Lubrication System to Cope with Non-unloading of that Bearing
Operating Parameters
Flows to 1140 m³/hour (5020 gpm)
Pressures to 621 bar (9000 psi)
Temperatures from -40° C (-40° F) to 288° C (550° F)
Size Range
From 76.2 mm (3.00") to 228.6 mm (9.00") Stroke, with 12.7 mm (0.50") to 228.6 mm (9.00") Diameter Plungers, with Power Ratings of 56 KW to 3470 KW.
Slurry Design
Special Liquid End Arrangement for Constant Velocity Flow, Stuffing Box Flushing, & Slurry Valves to Cope with Solids in the Liquid
Standard Design
Sectionalised Liquid End with Multi-Cylinder or Individual Cylinder Arrangement & Separate Manifolds, Clean Liquid Valves, & Full Pressure Bearing Lubrication