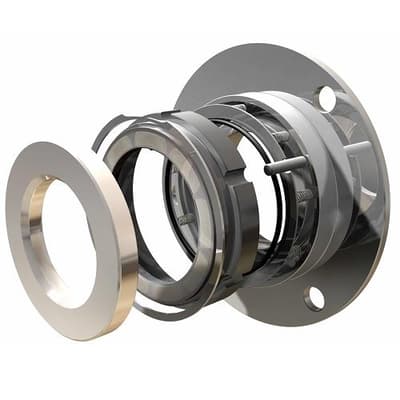 Images are representations only.
GLS, GSS, and GSG Series seals are designed to fit the unique installation envelop and operating speeds present in integrally geared pumps and compressors.

GLS seals are suitable for operating on liquid, whereas GSS seals are designed for operating in gaseous environments.

GSG seals are applied at the bottom of vertical gearboxes to seal gearbox oil in and keep contaminants out.
Features
Longer Service Life And MTBF Enabled By Precision Face Topography, Creating Seal Face Liftoff To Eliminate Wear.
High-Efficiency Performance From Non-Contacting Precision Face Topography Technology With Near-Zero Power Consumption.
Meets All Requirements For Low Emission Containment Seals In Hydrocarbon Pumping Applications.
Configurable As A Single Compressor Seal, Dual Pressurized Barrier Gas Seal, Or Dry-Running Containment Seal.
High-Pressure Performance Enabled By Successful Operation Up To 86.2 Bar (1250 Psi) In Flashing Hydrocarbons.
Longer Service Life Demonstrated By Operation With No Measureable Face Wear Or Worn Taper Due To Enhanced Seal Face Flatness Provided By The Nonclamped Rotating SiC Face.
Configurable As A Single Seal, Dual Unpressurized Seal With Liquid Buffer, Dual Unpressurized Seal With Gas Buffer, Or Dual Pressurized Seal With Liquid Barrier.
Energy Savings And Improved Safety Enabled By Innovative Hydrodynamic Surface Tension (HST) Face Topography That Provides Near-Zero Leakage Performance.
Reliable High-Speed Operation Enabled By Proprietary Laser-Machined Wavy Face.
Greater Durability And Service Life Assured By Durable Seal Face Materials Suitable For Frequent Starts And Stops.
Upgrade Ease Made Possible By Direct Replacement Of Existing Gearbox Seals Without Equipment Modification.
Specifications
Arrangement 1 Single Seal (Common Piping Plans 11, 13, 23, 32)
Arrangement 2 Unpressurized Dual Seal with Dry Running Back-Up (Common Piping Plans 72, 75, 76)
Arrangement 2 Unpressurized Dual Wet Seal (Common Piping Plans 52)
Arrangement 3 Pressurized Dual Gas Seal (Piping Plan 74)
Arrangement 3 Pressurized Dual Wet Seal (Common Piping Plans 53A, 53B, 53C, 54)
GLS & GSS
Up to 86.2 bar (1250 psi)