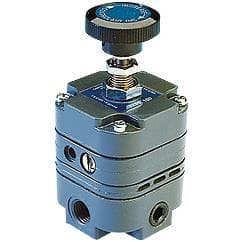 Images are representations only.
Type 100/100M Pressure Regulator
Brand:
ControlAir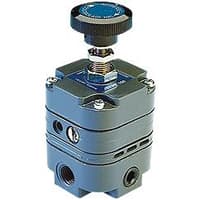 The Type 100 (and 100M for motorized version) is a high precision, multi-stage pressure regulator.

This pressure controller provides the highest level of regulation accuracy and repeatability available.

The Type 100/100M is ideal for applications that call for the utmost in control and maximum stability under variable operating conditions.

A stainless steel measuring capsule is used as a sensing element to activate the high gain servo balanced control mechanism in which the main valve is controlled by a pilot valve.

This allows for greater accuracy and eliminates many of the problems associated with conventional regulators using range springs and diaphragms.
Features
Accurate Pressure Regulation


Controls output pressure to within 0.1% accuracy. Regulated pressure variation as small as 0.01 psig is self corrected 

Stable Output


Substantial changes in flow have virtually no effect on regulated pressure from dead end to 12 SCFM. 

Dependable Startup


Returns the regulated pressure to its original output setting even after long "down time" 

High Relief Capacity


An optional high flow relief valve provides quick response when regulated pressure is reset to a lower value or when there is a large amount of system back pressure to be relieved 

Temperature Stability


A stainless steel measuring capsule which activates the servocontrol mechanism minimizes effects on regulated pressure by wide variations in operating temperature. 

Locking Capability


Locking nut prevents inadvertent pressure adjustment 

Output Pressure Range: psig: 0.5 to 120 (bar: 0.03 to 10.3, kPa: 3.4 to 1,034.2) 
Supply Pressure (Maximum): psig: 150 (bar: 10.3, kPa: 1,034) 
Ambient Temperature: -29° to 71°C (20° to 160°F) 
Port Size: 1/8", 1/4", 3/8" 
Port Threads: NPT or BSP 
Materials of Construction:


Body & Housing: Die-cast Zinc Alloy 
Diaphragm: Buna N Elastomer and Polyester Fabric 
Knob: Phenolic Plastic (100) 
Specifications
Actuator Type
Knob Adjust (Plastic)
Motorized
Tamper-Proof
BSP Connection
1/4" BSP Female
1/8" BSP Female
3/8" BSP Female
Exhaust Capacity - Relieving Units Only
11 scfm (330 NL/minute) with psig: 5 (bar: 0.35, kPa: 35) Set Point - for High Relief Model
15 scfm (450 NL/minute) with psig: 5 (bar: 0.35, kPa: 35) Set Point - for Extra High Relief
3 scfm
3 scfm (90 NL/minute) with psig: 5 (bar: 0.35, kPa: 35) Set Point.
psig: 5 (bar: 0.345, kPa: 34.47) Above psig: 20 (bar: 1.379, kPa: 137.9) Set Point
Flow Capacity
14 scfm (420 NL/minute) at psig: 100 (bar: 7, kPa: 700) Supply - psig: 20 (bar: 1.5, kPa: 150) Outlet
NPT Connection
1/4" NPT Female
1/8" NPT Female
3/8" NPT Female
Operating Temperature
-29° to 71° C (-20° to 160° F)
Operating Temperature - Electronics
-18° to 60° C (0° to 140° F)
Pressure Range
bar: 0.03 to 8
kPa: 3.4 to 827
psig: 0.5 to 120
Supply Pressure - Maximum
bar: 10
kPa: 1,034
psig: 150
Supply Pressure Effect
less Than psig: 0.005 (bar: 0.0003, kPa: 0.03) of psig: 25 (bar: 1.7, kPa: 172)
Air Gauging
Air Hoists
Calibration Standards
Cylinder Loading
Diagnostic Controls
Gas Mixing
Gate Actuators
Medical Equipment
Microfluidics
Precision Fluid Control
Roll Loading
Valve Operators
Ventilators
Web Tensioning