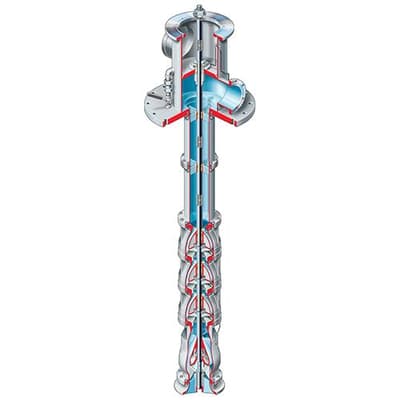 Images are representations only.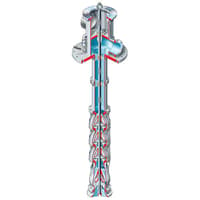 Specifically designed for transportation barges, the Flowserve Barge Pump continues to be the premier brand used on inland and coastal waterways.

The Barge Pump is a vertical self-contained, self-priming unit designed for barge unloading and transfer operations.

With the high-efficiency Barge Pump, stripping turnaround times are kept to a minimum.

Furthermore, its innovative pollution prevention design inhibits costly oil and chemical spills.
Features
Self-Priming Stripper Stage Operates Efficiently At Extremely Low Submergence Levels, And Will Maintain Pumping Performance During Operations Which Induce Large Quantities Of Air Ingestion.
Stator Case Provides Smooth Fluid Transition To Pressure Stages.
Enclosed Impellers Provide Pressure For Offloading.
Access Ports Allow Full Maintenance Of The Stuffing Box Without Removing The Driver.
Bleed Off Stuffing Box Diverts Product Bypass Back To The Compartment Via A Sealed Return Line To Prevent Costly Spills.
Multistage Design Meets A Wide Range Of Capacity And Head Requirements.
Specifications
Operating Parameters
Discharge Flanges to 250 mm (10")
Flows to 1035 m³/hour (5000 gpm)
Pressures to 8.6 bar (125 psi)
Size Range
Sizes from 250 mm (10") to 500 mm (20")