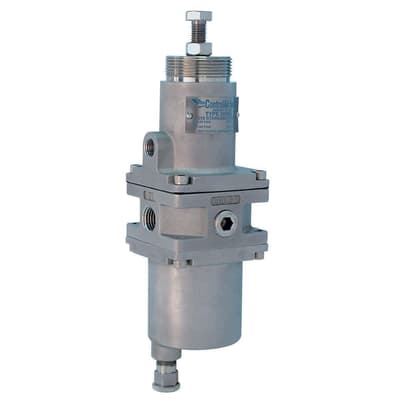 Images are representations only.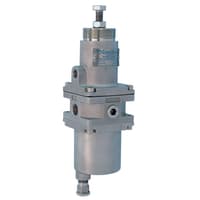 The Type 350 stainless steel air filter regulator (AFR), is designed to stand up to the harshest environments, while providing highly accurate pressure regulation.

By using proven 316L stainless steel for the housing and filters, along with the use of fluorocarbon-fiber reinforced diaphragms, the Type 350 is compatible with sour gas and offshore environments.

The Type 350 regulators meet NACE MR0175 requirements for sulfide stress cracking. Each of these products are built and tested at our facility to ensure you get the best quality, at a great value with the best service.
Features
All 316 Stainless Steel Construction Ideal for sour gas and/or corrosive environments
NACE Compliant Meets NACE #MR-0175 material requirement for sulfide stress cracking
1/4" and 1/2" ports
Autodrain option
Low Temperature option: down to -61°F (-52°C)
High Flow Capacity: up to 150 scfm
Tapped Exhaust Port Permits remote venting of hazardous gases
Minimal Air Consumption
Specifications
Pressure Range
0 to 30 psig (0 to 2.0 bar), 0 to 60 psig (0 to 4.0 bar), 0 to 100 psig (0 to 7.0 bar), 0 to 150 psig (0 to 10.0 bar)
Exhaust Capacity - Relieving Units Only
1.0 scfm (30 Nl/min) at downstream Pressure of 10 psig (0.7 bar) above Set Point
Supply Pressure - Maximum
290 psig (20.0 bar), Autodrain: 150 psig (10.0 bar)
Operating Temperature
-20° to +185° F (-29° C to +85° C) Autodrain Option: (Type 350 and Type 370 only) 32° to 185° F (0° to 85° C) Temperatures: Low Temperature Option: -61° to +194° F (-52° to + 90° C)
Filter
25 micron  optional 5 micron filter
Porting
Inlet/Outlet: 1/4" NPT or 1/2" NPT, Gauge (2): 1/4" NPT, Exhaust: 1/8" NPT
Materials
316L Stainless Steel: Housings 316 Stainless Steel: filter, Range spring, trim Inconel: valve spring Fluorocarbon: Diaphragm, Seals Silicone: Diaphragm, Seals (Low Temperature option)