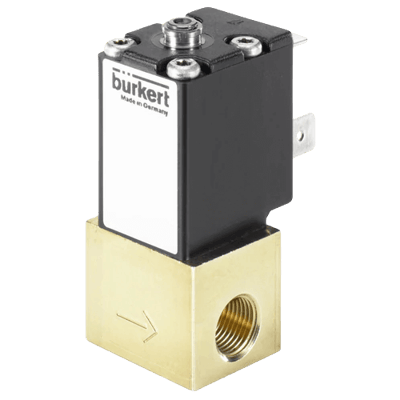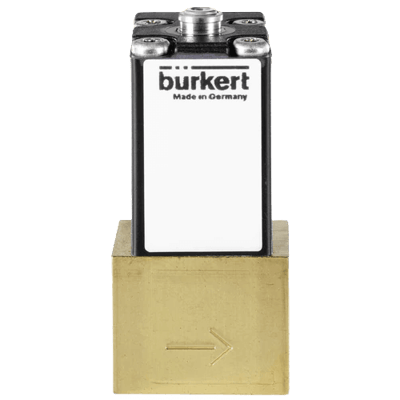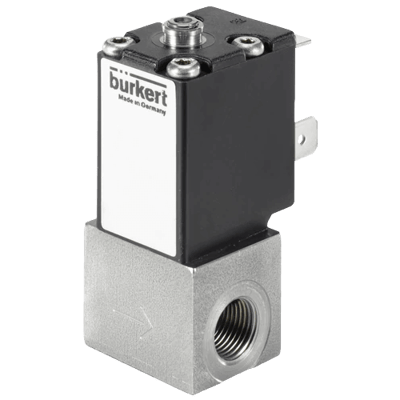 Images are representations only.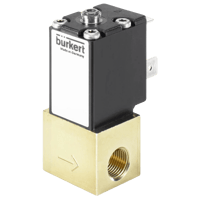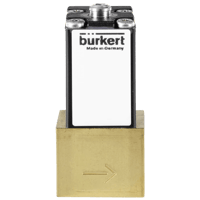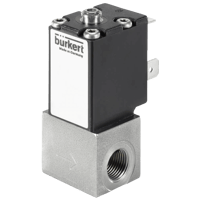 The direct-acting solenoid control valve Type 2871 (20 mm installation width) is used as the regulating unit in control loops.

Due to an elastomeric seat seal the valve closes tight (integrated shut-off function) ,up to the DN specific nominal pressure. The plunger of the valve is assembled frictionless, which leads to an extraordinary adjustment characteristic.

This valve is particularly suitable for demanding control tasks (high control range, dry gases, etc.). Valve control takes place through a PWM signal. The duty cycle of the PWM signal determines the coil current and hence the position of the plunger.

Optionally the valve can also be driven with DC voltage.
Features
Excellent range (1:200)
Very good response
Compact valve design
Port connection 1/8" or sub-base
Specifications
Ambient Temperature Range
Approvals & Certifications
Consumption
Power: 2 W (up to DN 0.6)
Power: 5 W (From DN 0.8)
Differential Pressure
psi: 0 to 145 (kPa: 0 to 1,000, bar: 0 to 10) - Max.
Duty Cycle
100 % Duty Cycle Continuous Rating
Electrical Connectors
Cable Plug Typical 2507
Lead Wires 300 mm
Flow Rate
Water: 0 to 0.090 Kvs (m³/hour)
Mounting Position
Preferably with Actuator Upright
Nominal Pressure
psi: 0 to 174 (kPa: 0 to 1,200, bar: 0 to 12)
Orifice Size
0.001" to 0.944" (0.05 to 2 mm)
Pressure Range
psi: 0 to 174 (kPa: 0 to 1,200, bar: 0 to 12) Applicable for Technical Vacuum
Process Temperature
-10° to 90° C (14° to 194° F)
Ratio
Span - 1:200 (DN0.8 to 2)
Span - 1:500 (DN0.05 to 0.6)
Repeatability
Flow Measurement: < 0.25 % of Full Scale
Response Time
< 15 milliseconds at (10-90 %)
Seat / Seal Material
PCTFE
Seal: EPDM
Seal: FFKM
Seal: FKM
Sensitivity
Flow Measurement: < 0.1 % to < 0.25 % of Full Scale