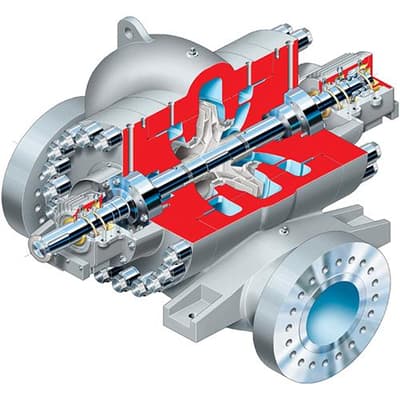 Images are representations only.
The DVSR is a between bearings, radially split, single stage pump designed for continuous service in severe duty, high pressure pipeline services.

Based on our range of DVSH, axially split pumps with over 100 hydraulics available, the DVSR is the ideal choice where an axially split pump is limited.
Features
Radially Split Case Allows Operation To Much Higher Pressure And Lower Specific Gravities Than Similar Axially Split Cases.
Suction And Discharge Nozzles Are Integrally Cast In Casing To Permit Pump Disassembly Without Disturbing The Piping.
Double Volute Design Minimizes Hydraulic Radial Forces In Any Condition Down To The Minimum Flow.
Double Suction Impeller Provides Hydraulic Axial Balance And Allows Minimal NPSHr.
ISO 21049/API 682 Seal Chambers Ensure Ample Flow Around The Seal Faces And Accommodate Numerous Seal Designs.
Heavy-Duty Shaft Design Ensures Trouble-Free Operation Below The First Critical Speed.
Standard Renewable Casing And Impeller Wear Rings Provide Hydraulic Stability And High Operating Efficiency.
Specifications
Operating Parameters
Flows to 3635 m³/hour (16000 gpm)
Heads to 250 m (820 ft)
Pressures to 260 bar (3750 psi)
Speeds to 4000 rpm
Temperatures to 204° C (400° F)
Size Range
Sizes from 150 mm (6") to 600 mm (24")