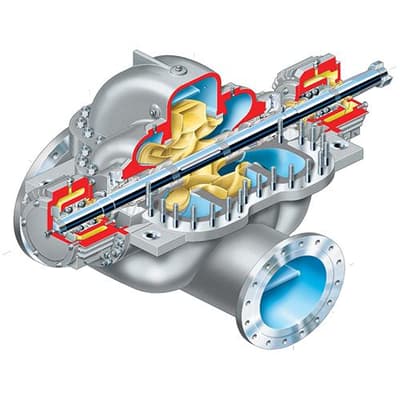 Images are representations only.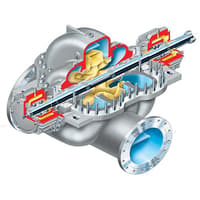 The LPN is a between bearing, axially split, one-stage pump.

With a double suction impeller and side-side nozzles, this medium-pressure pump is a natural solution for low NPSH applications, such as water and hydrocarbon transfer service.
Features
High Uptime Made Possible By Double-Suction Impeller And Double Volute Designs, Which Create Optimal Axial And Radial Thrust Balance.
Increased MTBR Resulting From Heavy-Duty Bearings And Bearing Lubrication System; Multiple Options Available To Suit Application Requirements.
Superior Performance At Elevated Temperatures With Near-Centerline Mounting.
Emissions control with ISO 21049/API 682 seal chambers.
Simplified Maintenance Enabled By The Split-Casing Design, Which Permits The Rotor, Seals And Bearings To Be Serviced Without Disturbing The Piping.
Centerline.
Nozzle Loading Capability Beyond API 610, API 68.
Specifications
Operating Parameters
Flows to 15000 m³/hour (65000 gpm)
Heads to 250 m (820 ft)
Pressures to 50 bar (725 psi)
Temperatures -80° C (-110° F) to 204° (400° F)