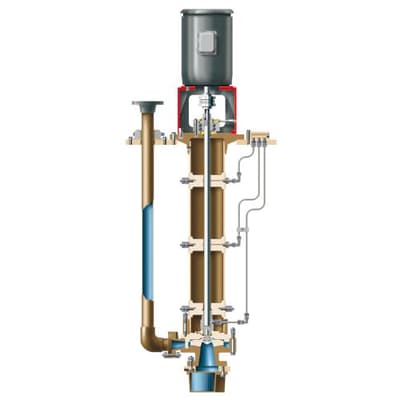 Images are representations only.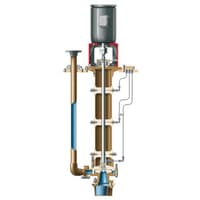 The PolyChem VGRP is a fiberglass, vertical immersion, open impeller pump designed for corrosive wet-pit applications in waste handling and chemical transfer.
Features
Glass-Reinforced Vinyl Ester.
Unitized Casing With Integrally Molded, Fully Gusseted Suction And Discharge Flanges.
Externally Adjustable, Semi-Open Impeller.
Shaft And Bearing System Operates Well Below The First Critical Speed.
Self-Lubricated Or External Flush Bearings.
Single-Piece, Lightweight, Filament-Wound, Reinforced Fiberglass Composite Column.
Single And Duplex Configurations.
Full Basket Strainer.
NEMA TCV Motor.
Fiberglass Mounting Plate.
Tapered Polygon Impeller Drive.
Pullout Bearing Retainers.
Level Controls.
Choice Of Shaft Metallurgy.
Specifications
Operating Parameters
Flows to 565 m³/hour (2500 gpm)
Heads to 110 m (350 ft)
Pressures to 17 bar (250 psi)
Temperatures from -30° C (-20° F) to 90° C (200° F)
Size Range
Pit Depths to 4.25 M (14 Ft), 6.75 M (22 Ft) with Optional Tailpipe
Sizes from 25 mm (1") to 150 mm (6")