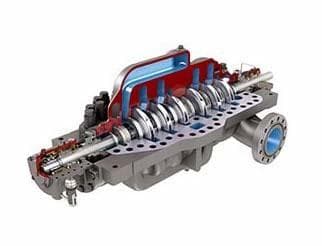 Images are representations only.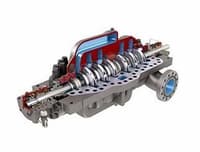 The type DMX is a horizontal split case, dual volute, heavy duty, high pressure multistage unit with opposed impellers in accordance with API 610 latest edition.

It is available in various sizes and material combinations making it suitable for service on a wide range of process and industrial applications.
Features
Dual Volute Casings Are Horizontally Split And Cast In Two Halves, Each Designed For The High Pressure And Externally Applied Nozzle Loads Which These Pumps Are Subject To. Cap Nuts, Arranged On The Top Casing Parting Flange Allow Easy Upper-Half Casing Removal For Rotor Inspection And Maintenance. Suction And Discharge Nozzles Are Integrally Cast With The Lower Half Casing, Permitting Disassembly Of The Pump Without Disturbing Piping Connections.
The Pump Mounting Feet Are Cast Integral With The Lower Half Casing And Are Incorporated Into The Flange Design. This Locates The Feet Close To The Pump Horizontal Centreline So That Unit Alignment Is Maintained When Operating At Elevated Temperatures.
Stuffing Boxes Are Cast Integrally With The Pump Casing And Are Designed To Accommodate Various Cartridge Mechanical Seals And Packed Box Arrangements. A Pump Balance Line Returns High Pressure Pump Leakage Back To The Pump Suction Nozzle After It Is Broken Down Across A Throttling Bushing, Thus Allowing Both Stuffing Boxes To Operate At Pump Suction Pressure.
Removable Stuffing Box Gland Covers Are Available To Protect The Exposed Shaft Area Around The Stuffing Boxes And Gland Sumps From Contaminants. They Can Also Be Sealed To Collect And Vent Any Hazardous Vapours Which May Escape From The Mechanical Seals. Stuffing Box Bushings Are Utilized To Isolate The Sealing Devices From The Raw Pumpage And Back-Pressure The Flow Of Seal Injection Liquid, Presenting The Seals With An Ideal Environment For Long Seal Life.
Specifications
DMXD
Double Suction First Stage DMX
DMXD-RO
Desalination hp Feed DMXD
Operating Parameters
Flows From 20 m³/hour (88 gpm) to 5400 m³/hour (23775 gpm)
Heads from 117 m (385 ft) to 2594 m (8512 ft)
Pressures to 275 bar (4000 psi)
Temperatures to 204° C (400° F)