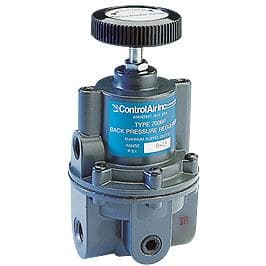 Images are representations only.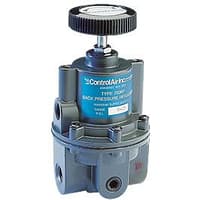 The Type-700BP Back Pressure Regulator is a high flow, highly accurate pneumatic relief valve with an adjustable set point.

It's primary function is to provide protection against over pressurization in the downstream portion of a pneumatic system. This precision unit is capable of handling flows up to 50 SCFM.

A rolling diaphragm provides the sensitivity that causes the Type-700BP to vent to atmosphere in response to the slightest upstream changes.
Features
Sensitivity 


Provides quick response to controlled system pressure variation

High Flow Capacity 


Flows up to 50 SCFM (depending on set point pressure and port size)

Compensating Flow Control


Venturi type velocity pressure tube adjusts main control valve opening in accordance with velocity pressure variations of flow from controlled system.

On-Line Maintenance 


Unit can be disassembled and serviced without removing from the air line 

Set Point Range: psig: 0 to 150 (bar: 0 to 10.3, kPa: 0 to 1,034.2) 
Supply Pressure (Maximum): psig: 250 (bar: 17.2, kPa: 1,723) 
Ambient Temperature: -17° to 71°C (0° to 150°F) 
Port Size: 1/4", 3/8", 1/2" 
Port Threads: NPT 
Materials of Construction:


Body & Housing: Die-cast Aluminum Alloy 
Trim: Acetal, Brass and Plated Steel 
Knob: Phenolic Plastic 
Specifications
Actuator Type
Knob Adjust (Plastic)
Tamper-Proof
Ambient Temperature Range
-17° to 65° C (0° to 150° F)
Flow Capacity
Up to 50 scfm (85 m³/hour) Depending on Set Point & Port Size
NPT Connection
1/2" NPT Female
1/4" NPT Female
3/8" NPT Female
Pressure Range
bar: 0 to 10
kPa: 0 to 1,034
psig: 0 to 150
Supply Pressure - Maximum
bar: 17.2
kPa: 1,723
psig: 250
Trim Material
Acetal
Brass
Plated Steel