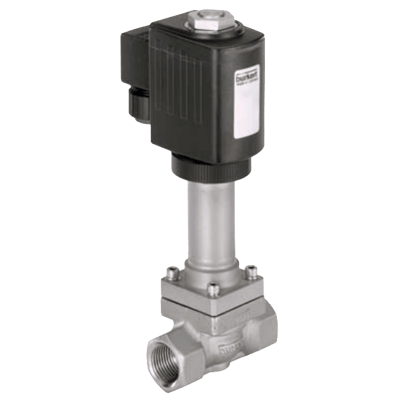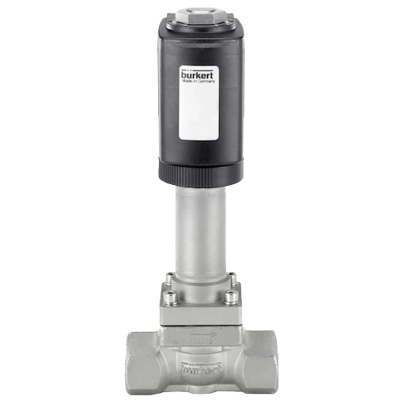 Images are representations only.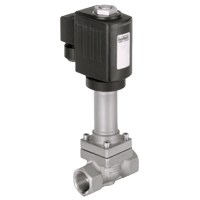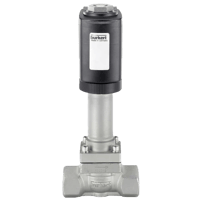 The direct-acting valve Type 2610 is delivered with circuit function normally closed.

The thermal isolation of the coil and housing by means of stainless steel bellows allows the extreme medium temperature. In this way, condensation or an unacceptable heating up of the coil is avoided.

The supplied cable head contains a "kick and drop" electronic that supports the opening phase and afterwards reduction of the opening holding power.
Features
Medium separation
Metal bellow system in stainless steel
High quality PTFE seat seal
Medium temperature: 200° to 180° C (-328° to 356° F)
Energy saving "Kick and Drop" electronic 
Specifications
Ambient Temperature Range
BSP Connection
G 1/2" Female
G 1/4" Female
Consumption
Power Consumption: Kick & Drop Electronic 4 W (Operation)
Power Consumption: Kick & Drop Electronic 72 W (Inrush)
Duty Cycle
Continuous Operation 100 % ED
Electrical Connectors
Cable Plug for Ø 7 mm Cable
Enclosure, Body Material
316Nb Stainless Steel, 1.4581
Brass
Flow Rate
Water: 0.8 to 1.8 Kv (m³/hour)
Materials of Construction
Metal Bellows: 321 Stainless Steel (1.4541)
Mounting Position
Preferably with Actuator Upright
NPT Connection
1/2" NPT Female
1/4" NPT Female
Orifice Size
0.236" to 0.472" (6 to 12 mm)
Pressure Range
psi: 0 to 145 (kPa: 0 to 1,000, bar: 0 to 10)
Process Temperature
-200° to 180° C (-328° to 356° F)
Response Time
Closing: 300 to 500 milliseconds (Pressure Drop 100 to 10 %)
Opening: 100 to 200 milliseconds (Pressure Rise 0 to 90 %)
Seat / Seal Material
Seal: PTFE
Seat: 316Nb Stainless Steel, 1.4581