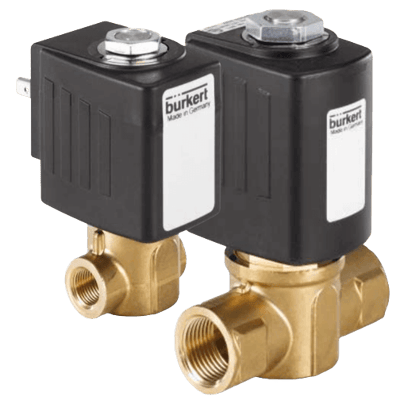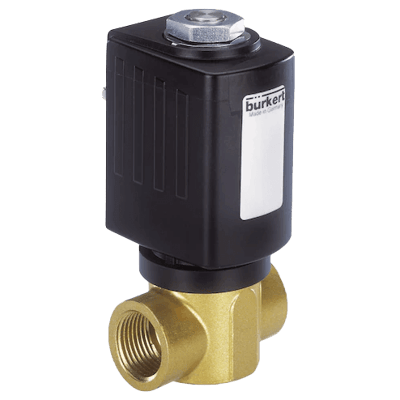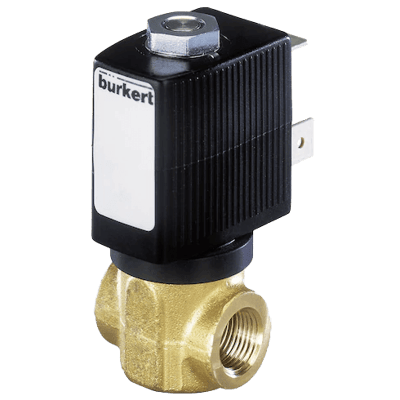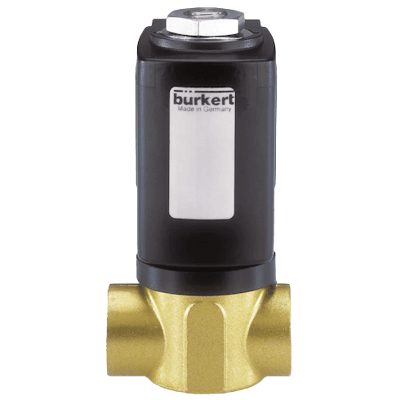 Images are representations only.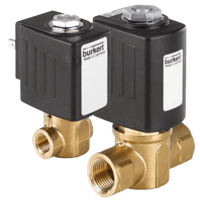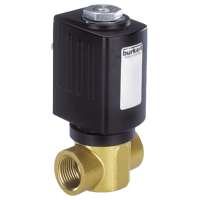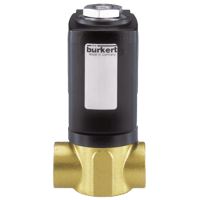 Type 6027 are direct acting solenoid valves. Depending on the version, these valves can be used either as feed line, return line or circulation valves.

The valves fulfill the requirements of a safety shut off valve according to DIN EN ISO 23553-1. It is approved by TUV-Sud and certified by DIN Certco.

The universal coil system reduces logistics and service expenses.
Features
NC-valves, approved according to DIN EN ISO 23553-1
Medium: liquid fuels
Easy servicing due to modular coil system
Feed line, return line or circulations valve
IP65
Specifications
Ambient Temperature Range
-15° to 60° C (5° to 140° F)
Applications
Circulation Valve
Feed Line Valve
Return Line Valve
Approvals & Certifications
BSP Connection
G 1/2" Female
G 1/4" Female
G 1/8" Female
G 3/8" Female
Consumption
Power Consumption: 24-180 VA (Inrush)
Power Consumption: 8-20 W (Operation)
Duty Cycle
Continuous Operation 100 % ED
Electrical Contacts
Normally Closed Valves, Approved According to DIN EN ISO 23553-1
Flow Rate
Water: 0.15 to 2 Kv (m³/hour)
Materials of Construction
434 Stainless Steel (1.4113)
Coil (Insulation Class B): Polyamide, Only DN 2.2 NC
Coil (Insulation Class H): Epoxy
Plunger: 430FR Stainless Steel (1.4105)
Stopper (1.4113), Strainer (Only DN 3 & 3.5): Stainless Steel
Media
Fatty Acid Methyl Esters (FAME) According to DIN EN 14213
Heating Oil (EL, L, M, S) According to DIN 51603 Part 1-6
Rapeseed Oil According to DIN V 51605
Shipping Fuels According to ISO 8217, Liquid Fuels
Mounting Position
Preferably with Actuator Upright
Orifice Size
0.086" to 0.393" (2.2 to 10 mm)
Pressure Range
psi: 0 to 435 (kPa: 0 to 3,000, bar: 0 to 30)
Process Temperature
Coil Insulation Class B: 0° to 70° C (32° to 158° F), Only DN 2.2 NC
Coil Insulation Class H: 0° to 160° C (32° to 320° F)
Response Time
Closing Time: 25 to 50 milliseconds
Seat / Seal Material
PTFE
Seal: FKM (External)
Spindle Material
Spindle: 303 Stainless Steel, 1.4305
Spring Material
301 Stainless Steel, 1.4310
Viscosity
1.6 to 76 cSt (DN 2.2 NC 1.6 to 22 cSt)
Voltage
110-120 V / 50 Hz
220-240 V / 50 Hz
Circulation Valve
Feed Line Valve
Return Line Valve