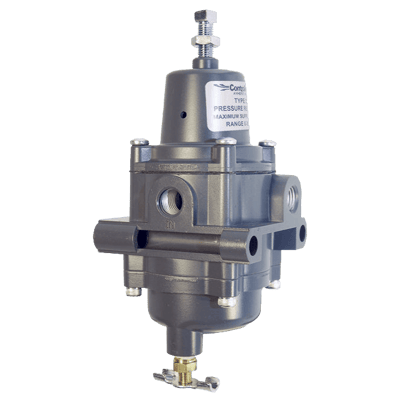 Images are representations only.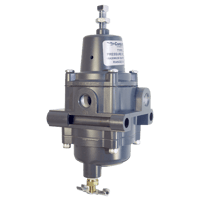 The Type 335 Series of Instrument Air Filter Regulators are designed to provide clean, accurate air pressure to instruments, valves, and other automatic control equipment in a lightweight, compact housing.

These quality instruments are constructed of durable materials that will provide long lasting corrosion resistance in harsh industrial environments.

Materials in the Type-335 NACE Filter Regulator meet NACE MR-0175 requirements.
Features
Compact and Light Weight Construction 
High Flow Capacity 
Low Air Consumption 
Rugged, Corrosion Resistant Design 
Pressure Range: psig: 0 to 120 (bar: 0 to 8 bar, kPa 0 to 827) 
Supply Pressure (Maximum): psig: 250 psig (bar: 17, kPa: 1,723) 
Temperature Range:


Standard: -29°C to 82°C (-20° to 180°F) 
Low range: -40° to 51°C (-40° to 125°F) 

Port Size: 1/4" 
Port Threads: NPT 
Materials of Construction:


Body & Housing: Diecast Aluminum Alloy, Irridite, Baked Epoxy Finish 
Diaphragms: Viton 
Filter: Phenolic Impregnated Cellulose 
Specifications
Exhaust Capacity - Relieving Units Only
0.1 scfm (2.83 Nl/minute) with Downstream Pressure psig: 5 (bar: 0.3, kPa: 30) Above Set Point
Filter
5 microns
Phenolic Impregnated Cellulose (40 microns)
Flow Capacity
0.5 Cv at psig: 150 (bar: 10.3, kPa: 1,034) Supply & psig: 80 (bar: 5.5, kPa: 551) Set Point
Media
Air
Inert Gas
Sour Natural Gas
Sweet Natural Gas
Operating Temperature
-29° to 82° C (-20° to 180° F)
Pressure Range
bar: 0 to 8
kPa: 0 to 827
psig: 0 to 120
Supply Pressure - Maximum
bar: 17
kPa: 1,723
psig: 250
Supply Pressure Effect
> psig: 0.25 (bar: 0.017, kPa: 1.7) for psig: 25 (bar: 1.7, kPa: 172) Change