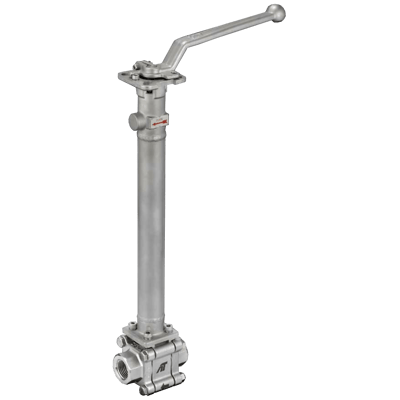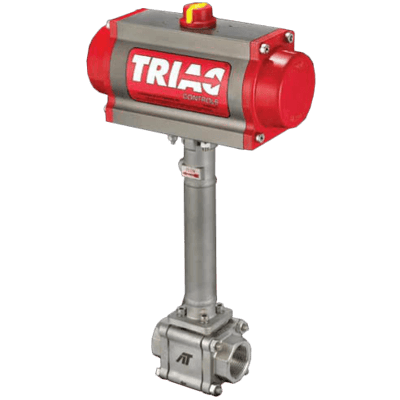 Images are representations only.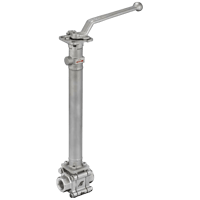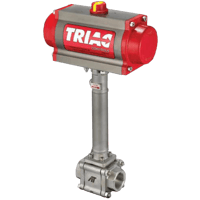 Triac C8/CR Series 3-Piece Manual Ball Valves feature a direct mount automation pad.

The high quality investment castings feature a fully machined bore.

The superior live-loaded packing system is accomplished with Belleville washers, "V" ring packing and a unique primary pyramidal stem seal.

This advanced sealing system provides for protection against stem leaks experienced by ordinary ball valves.
Features
Sizes 1/4"-2", Full Port (C8)
Sizes 1/2"-2", Regular Port (CR)
Stainless Steel Body
Threaded, Socket Weld or Butt Weld
1,000 psi WOG
ISO 5211 Direct Mounting Pad
Superior Live Loaded Packing System
Blowout Proof Stem with Dual Anti-static Devices
PCTFE Seats
17-4 PH Stem
Lockable Manual Handle
Specifications
Approvals & Certifications
Cryogenic Service Test: BS 6364
Material Certificate: EN 10204-3.1 MTR
Pressure Testing: API 598
Approvals & Certifications
Ball Material
316 Stainless Steel - ASTM A276 - for Valve Size 1/4" - (6.35 mm) Thru 3/8" - (9.52 mm)
ASTM A351 Grade CF8M - for Valve Size 1/2" (12.7 mm) Thru 2" (50.8 mm)
Bonnet Material
ASTM A351 Grade CF8M - Extended Bonnet
Cap Material
Stainless Steel: ASTM A351 Grade CF8M - End Cap
Enclosure, Body Material
Stainless Steel: ASTM A351 Grade CF8M
Flow Capacity
12 to 200 Cv - for Regular Port, Valve Size 1/2 to 2" (12.7 to 50.8 mm)
7 to 430 Cv - for Full Port, Valve Size 1/4 to 2" (6.35 to 50.8 mm)
Gasket Material
Grafoil - Joint Gasket & Stem Packing
Handle Assembly Material
ASTM A351 Grade CF8 - Handle
Materials of Construction
301 Stainless Steel (AISI 301) - Belleville Washer
304 Stainless Steel - AISI 304 - Stem Washer, Gland Bushing & Lock Saddle
316 Stainless Steel (AISI 316) - Anti-static Device
RTFE - Gland Washer
Mounting
ISO 5211 Direct Mounting Pad
NPT Connection
1" NPT Female
1/2" NPT Female
1/4" NPT Female
1-1/2" NPT Female
1-1/4" NPT Female
2" NPT Female
3/4" NPT Female
3/8" NPT Female
Nut & Bolt Material
304 Stainless Steel - AISI 304 - Stop Bolt, Stem Nut & Handle Screw Nut
ASTM A193 Grade B8 - Body Bolt
ASTM A194 Gr8 - Body Bolt Nut
Port
Full
Reduced (Standard, Regular)
Pressure Range
psi: 0 to 1,000 (kPa: 0 to 6,900, bar: 0 to 69)
Screw Material
304 Stainless Steel - AISI 304 - Handle Screw & Screw Washer
Seat / Seal Material
Seat: PCTFE
TFM 1600 - Stem Seal
Valve Size
1/4 to 2" (6.35 to 50.8 mm)
Welded Connection
1" Butt Weld End
1" Socket Weld End
1/2" Butt Weld End
1/2" Socket Weld End
1/4" Butt Weld End
1/4" Socket Weld End
1-1/2" Butt Weld End
1-1/2" Socket Weld End
1-1/4" Butt Weld End
1-1/4" Socket Weld End
2" Butt Weld End
2" Socket Weld End
3/4" Butt Weld End
3/4" Socket Weld End
3/8" Butt Weld End
3/8" Socket Weld End