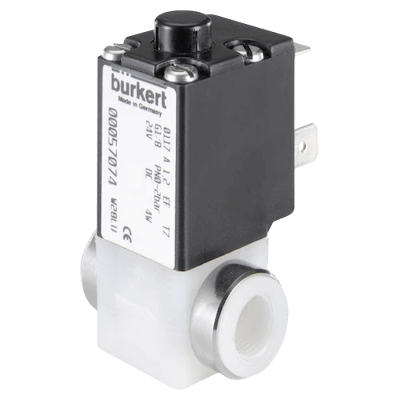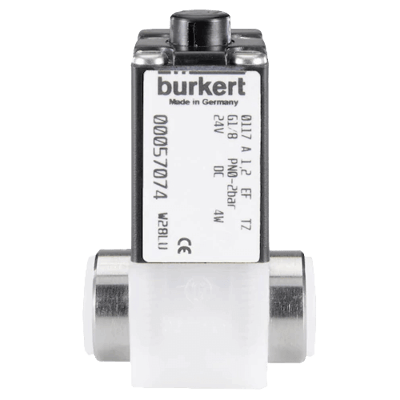 Images are representations only.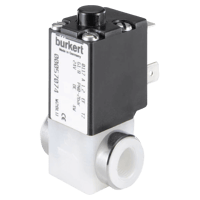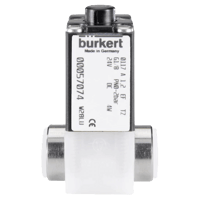 The Type 117 is a normally closed direct-acting plunger-type solenoid valve with PTFE-coated diaphragm. The diaphragm isolates the fluid from the solenoid system.

When deenergized (in circuit function A) the valve is closed by spring action. When energized, the solenoid armature is drawn in against a spring to open the valve.

The solenoid epoxy encapsulation efficiently dissipates the heat generated by the coil.
Features
Compact design
Low electrical power consumption
Short response times
Hermetically sealing isolating diaphragm
Body material: ETFE
Non-metallic valve internals
Customized System Solutions 
Specifications
Ambient Temperature Range
Applications
Aggressive Fluids
Disinfectants & Preserving Fluids
Food Processing
For De-ionized Water
Liquid & Gaseous Fluids
Medical Technology
Solvents
Ultra-Pure Fluids
Approvals & Certifications
Consumption
Power Consumption: 4 W - Actuator
Current
Cable Plug (Continuous Current): Max.
Cycling Rate
0 to 300 cycles/minute - Actuator
Diameter
Cable Diameter: 0.171" to 0.281" (4.34 to 7.13 mm)
Diaphragm Material
Isolating Diaphragm: PTFE
Duty Cycle
100 % Continuous Rating - Actuator
Electrical Connectors
Cable Plug DIN 43 650 Form B, 0-250 V - Actuator
Cable Plug: Screw Terminal, Max.
Flying Leads 11.8" (299.72 mm) - Actuator
Enclosure, Body Material
Cable Plug: Polyamide (PA)
Coil: Epoxy
Tefzel (ETFE)
Gasket Material
Isolation between Cable Plug & Coil: Gasket (NBR)
Materials of Construction
Contact Material: Brass, Tinned
Mounting Position
Preferably with Solenoid System Upright - Valve
Operating Voltages
12 Vdc - Actuator
24 Vdc - Actuator
Orifice Size
0.062" to 0.093" (1.57 to 2.36 mm) - Valve
Process Temperature
-10° to 70° C (14° to 158° F) - Valve
Resistance
Cable Plug (Contact Resistance): ≤ 4 milliohms
Response Time
Opening, Closing: Approximately 20 milliseconds - Valve
Temperature Range
Cable Plug: -30° to 90° C (-22° to 194° F)
Tolerance
Voltage Tolerance: ± 10 % - Actuator
UNF/UNC Connection
1/4"-28 UNF Female - Valve
Voltage
Cable Plug (Nominal Voltage): 0-250 V (Standard)
Liquid and gaseous fluids
Aggressive fluids
Disinfectants and preserving fluids
Solvents
Ultra-pure fluids
For de-ionized water
Food processing
Medical technology