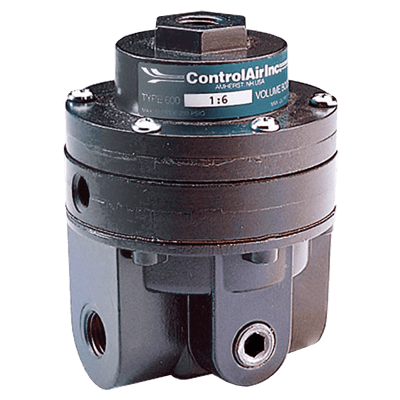 Images are representations only.
The Type-600 ratio relay volume booster is designed to use a pneumatic signal to produce an output pressure which has high flow capacity and can be amplified.

This unit is most useful for systems requiring the conversion of a low flow control signal to the higher flow requirements of an operating system.

Using an independent supply pressure for greater volume, the Type-600 relays up to 50 SCFM flow capacity to a final control element such as a valve actuator.
Features
High Flow Capacity


Allows flows up to 50 SCFM 

Amplified Output


Available in a signal to output pressure ratio of 1:1, 1:2, 1:3 and 1:6 

Stable Output


Venturi aspirator maintains output pressure under varying flow conditions 

Balanced Supply Valve


Rolling diaphragm design makes unit insensitive to supply pressure variation 

Optional Negative Bias


4 psi negative bias option allows "zero" of I/P's 

Ratio: 1:1, 1:2, 1:3, 1:6 
Supply Pressure (Maximum): psig: 250 (bar: 17, kPa: 1,700) 
Ambient Temperature: -40° to 71°C (-40° to 160°F) 
Port Size: 1/4", 3/8", 1/2" 
Port Threads: NPT, BSP 
Specifications
Ambient Temperature Range
-40° to 71° C (-40° to 160° F)
Exhaust Capacity - Relieving Units Only
10 scfm (17.0 m³/hour) where Downstream Pressure is psig: 5 (bar: 0.35, kPa: 35) Above Set Pressure
15 scfm (25.5 m³/hour) where Downstream Pressure is psig: 5 (bar: 0.35, kPa: 35) Above Set Pressure
Flow Capacity
50 scfm (85 m³/hour) 100 psig (7 bar, 700 kPa) Supply: 20 psig (1.5 bar, 150 kPa) Set Point
NPT Connection
1/2" NPT Female
1/4" NPT Female
3/8" NPT Female
Output Pressure - Maximum
bar: 17.2 to 10.34
kPa: 172 to 1,034
psig: 25 to 150
Sensitivity
0.25" WC (0.64 cm)
0.50" WC (1.3 cm)
0.75" WC (1.9 cm)
1.50" WC (3.8 cm)
Supply Pressure - Maximum
bar: 17.5
kPa: 1,750
psig: 250