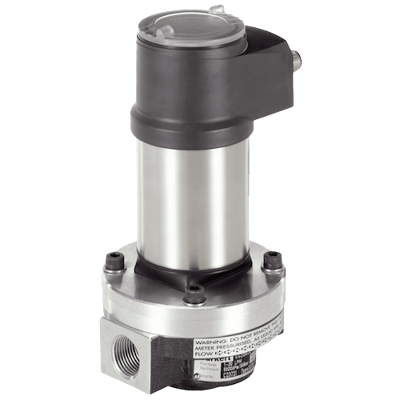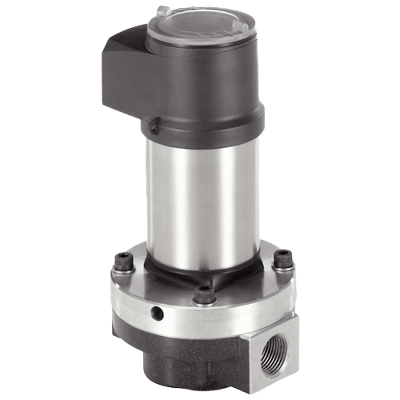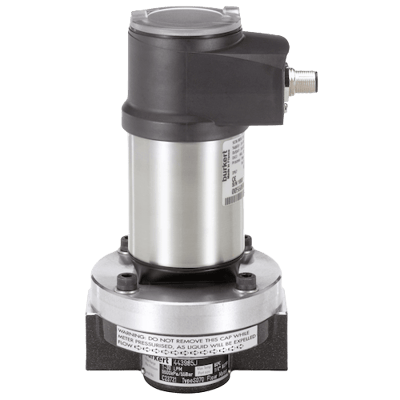 Images are representations only.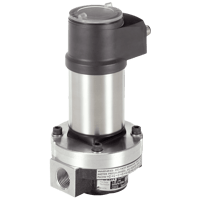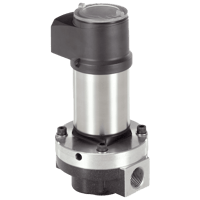 This positive displacement flowmeter with display Type 8076 is designed for use in highly viscous fluid like glue, honey. It is made up of a compact sensor fitting (S070) and an enclosure with cover, containing the electronic module.

A removable display completes the flowmeter. This ensemble (SE36) is quickly and easily connected to the sensor fitting (S070) by a Quarter-Turn.

The flowmeter can operate without the display, but it will be required for configuring the flowmeter (i.e. set parameters, restore default parameters, configure information to be displayed, programme access code, adjust 4-20 mA output(s) and also for visualizing continuously the measured and processed data.
Features
Configurable outputs: one or two transistor output(s) and single or dual 4-20 mA current output(s)
Removable backlit display of flow rate and/or 2 two totalized volumes
Automatic-calibration: Teach-In, simulation of outputs signals provided without the need for real flow
Specifications
Ambient Temperature Range
Operating & Storage: 0° to 60° C (32° to 140° F)
Approvals & Certifications
CE
EMC: EN 61000-6-2, EN 61000-6-3
PED 97/23/CE
UL (C,US): UL 61010-1 + CAN/CSA C22.2 No.61010-1
Cable Length
164 feet (50 metres) - Max.
Circuit Protection
Short Circuit Protected for Transistor Outputs
Consumption
Current (2 or 3 Outputs Flowmeter [2-Wire]): ≤ 25 mA at 14 Vdc without Transistors Load, with Current Loop
Current (4 Outputs Flowmeter [3-Wire]): ≤ 5 mA at 12 Vdc without Transistors Load, without Current Loop
Current: ≤ 1 A with Transistor Loads
Power: 40 W, Max.
Diameter
Pipe: 1/2 to 4" (DN 15 to DN 100)
Display
Grey Dot Matrix 128 x 64 with Backlighting
Electrical Connectors
1.5 mm², Max.
5-Pin M12 Female
Shielded Cable
Enclosure, Body Material
316L Stainless Steel 1.4401
316Ti Stainless Steel, 1.4542
Aluminum
PPS
Flange Size - 1-1/2" (DN 40)
Flange Size - 4" (DN 100)
Humidity
≤ 80 % Relative Humidity, Non-Condensing
Loop Impedance
1 Current Output: 180 ohms at 14 Vdc, Max.
1,100 ohms at 36 Vdc, Max.
2 Current Outputs: 100 ohms at 12 Vdc, Max.
610 ohms at 24 Vdc, Max.
Materials of Construction
Display, Quarter-Turn System: Polycarbonate (PC)
Fixed Connector Mounting Plate: 316L Stainless Steel, 1.4404
Fixed Connector: Brass Nickel-Plated
Fixed Connector: Stainless Steel
Navigation Key: PBT
Measuring Error
Measurement Deviation: ± 0.5 % of Reading
Measuring Range
Viscosity 5 MPa.s: 2 to 1,200 L/minute
Operating Voltages
2 or 3 Outputs Flowmeter (2-Wire): 14-36 Vdc, Filtered & Regulated
4 Outputs Flowmeter (3-Wire): 12-36 Vdc, Filtered & Regulated
Output
1 Transistor Output, 2 Transistor Outputs (NPN): 1-36 Vdc
2 Transistor Outputs: 0.5 A, Max.
4-20 mA, 2 & 3-Wire
Transistor: 700 mA - Max.
Pressure Range
bar: 0 to 55
kPa: 0 to 5,500
psi: 0 to 798
Process Temperature
Aluminum Body: 0° to 80° C (32° to 176° F)
Stainless Steel Body: 0° to 100° C (32° to 212° F)
Reverse Polarity Protection
Seat / Seal Material
Seal: EPDM
Seal: FEP
Seal: FKM
Seal: PTFE
Switch Type
1 Transistor Output (NPN), 2 Transistor Outputs (NPN & PNP): Transistor
Wetted Materials
Rotor: 316L Stainless Steel (1.4401)
Rotor: Aluminum
Rotor: PPS