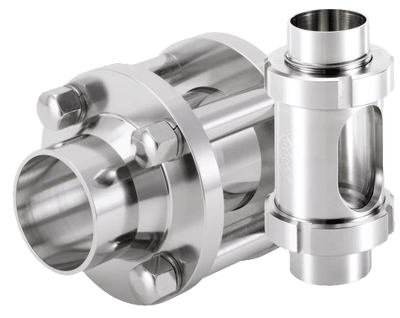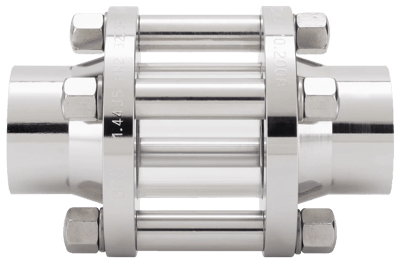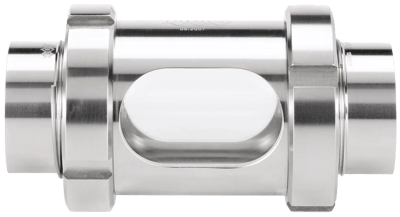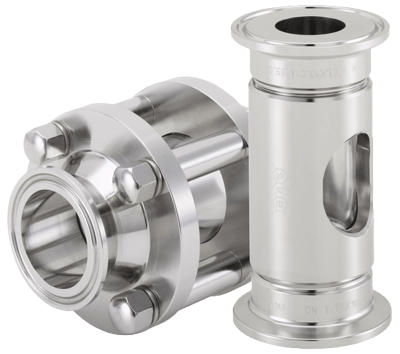 Images are representations only.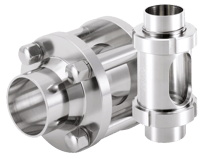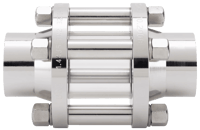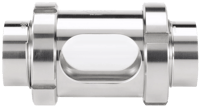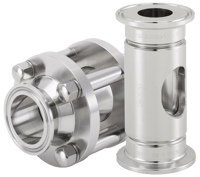 These sterile flow indicators can be installed in any position to observe liquid flow in any direction. The flow indicator is usually employed to detect either the presence or absence of solutions, or to observe fluids for turbulence, colour or clarity. They are ideal for high purity applications.

The standard view indicator offers excellent process visualization whilst protecting the glass and the full view version allows a 360° process vision, this means you can observe fluid flow from any position.
Features
Fully traceable wetted materials
Suitable for CIP and SIP
Glass mounted without stress
Specifications
Ambient Temperature Range
-20° to 80° C (-4° to 176° F)
Applications
Biotechnology
Chemical Industry
Cosmetics
Dairy Industry
Food
Pharmaceutical
Approvals & Certifications
Material Certificate 3.1
USP VI for EPDM, FEP & PTFE
Approvals & Certifications
Enclosure Finish
Electro-Polished < Ra 0.8 μm
Materials of Construction
AISI 301 Stainless Steel 1.4410
AISI 904L Stainless Steel, 1.4539
AISI F44 Stainless Steel, 1.4547
Glass: Borosilicate Glass with Polyurethane Coating
Hastelloy C-22
Medium Contact: AISI 316L Stainless Steel (1.4435)
Medium Separated: AISI 303 Stainless Steel, 1.4305
Operating Pressure
psi: -14.5 to 116 (kPa: -100 to 800, bar: -1 to 8)
Orifice Size
0.31" to 1.96" (8 to 50 mm) - Standard Version
0.31" to 3.93" (8 to 100 mm) - Full View Version
O-Ring Material
EPDM
FEP
PTFE-Coated Silicone
Seat / Seal Material
Seal: EPDM
Seal: FEP
Seal: Pure PTFE
Seal: Silicone
Tri-Clamp Connection
1" Tri-Clamp
1/2" Tri-Clamp
1/4" Tri-Clamp
1-1/2" Tri-Clamp
1-1/4" Tri-Clamp
2" Tri-Clamp
2-1/2" Tri-Clamp
3" Tri-Clamp
3/4" Tri-Clamp
3/8" Tri-Clamp
4" Tri-Clamp
Welded Connection
1" Weld End
1/2" Weld End
1/4" Weld End
1-1/2" Weld End
1-1/4" Weld End
2" Weld End
2-1/2" Weld End
3" Weld End
3/4" Weld End
3/8" Weld End
4" Weld End
Biotechnology
Pharmaceutical
Chemical industry
Dairy
Food
Cosmetic