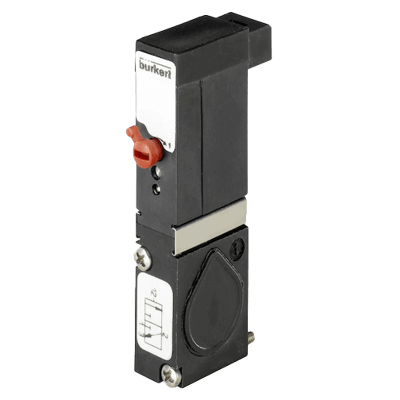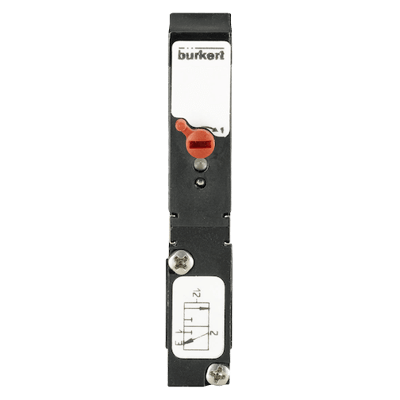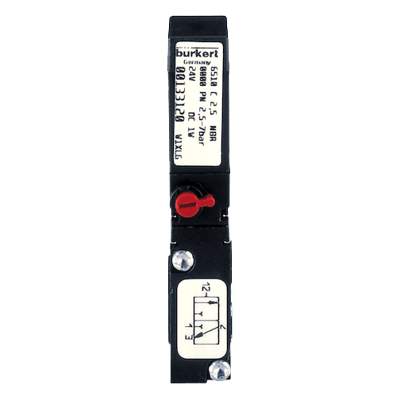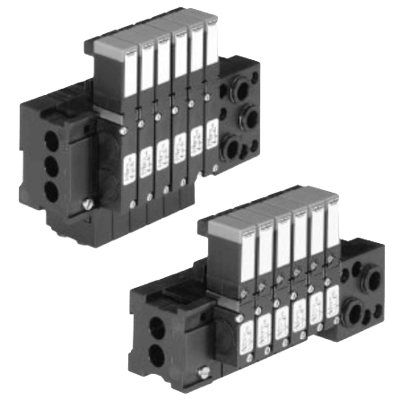 Images are representations only.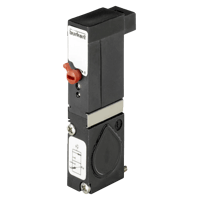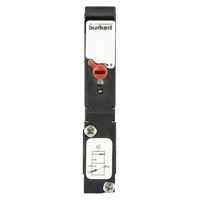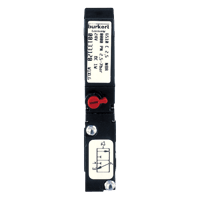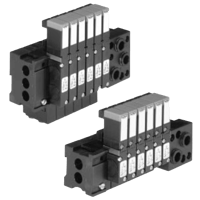 Types 6510/6511 Ex are with high switch reliability diaphragm valves in 3/2 and 5/2 way versions. The valve consists of a diaphragm reinforcement as main valve and a 10 mm rocker solenoid valve with DC-coil as pilot.

The valve module system is suitable for a wide variety of complex control applications, with the logical, modular construction in respect of its electrical and fluid interfaces.

Types 6510 and 6511 are expandable and preferably suitable for valve blocks with plug connection at the back, or in front by easily turning the pilot valve 180°.

The electrical connections can be made either via common connections, Multipole or field bus interfaces.
Features
EEx-ia-II C T6 approval
Optimal system solutions due to the high level of modularity
Long service life even with non-lube conditions
Pre-tested and supplied "easy to connect"
No individual valve wiring
Separate electrical circuits for the electronics and the valves
Field bus compatible
Low installation costs
Corrosion resistant
Specifications
Ambient Temperature Range
-10° to 60° C (14° to 140° F)
Applications
Cosmetic Processing Equipment
Food & Beverage
Pharmaceutical Processing Equipment
Pulp & Paper Processing Equipment
Sterilizers
Textile Dyeing/Drying Machines
Water Treatment/Processing Equipment
Approvals & Certifications
BSP Connection
Supply Ports 1/3/5 at the Connection Module: G 1/8" Female
Consumption
Consumption of Energy for Block Mounting (Ambient Temperature 40° C [104° F]), Consumption of Energy for Single Mounting (Ambient Temperature 55° C [131° F]): 0.7 W
Consumption of Energy for Single Mounting: 0.8 W (Ambient Temperature 50° C [122° F])
Electrical Power: 0.5 W
Current
Safety Current: 115 mA - Max.
Electrical Connectors
DIN/EN-Rail 50045
Rectangular Plug, 2-Pole on Top or Downwards
Service Ports 2/4 at the Pneumatic Module: M5
Supply Ports 1/3/5 at the Connection Module (Ø 8 mm), Service Ports 2/4 at the Pneumatic Module (Ø 4 mm): Plug-In Coupling
Media
Lubricated Compressed Air
Neutral Gasses
Non-Lubricated Compressed Air
Mounting
Block Mounting
Wall Mounted
Mounting Position
Any Orientation
Preferably Solenoid System Upright
Pressure Range
psi: 36.26 to 101.5 (kPa: 250 to 700, bar: 2.5 to 7)
Process Temperature
-10° to 50° C (14° to 122° F)
Response Time
Close (OFF): 27 milliseconds
Open (ON): 23 milliseconds
Voltage
Safety Voltage: 28 V, Max.
For integration as control valve on process valve. In hazardous area:

Food and beverage
Pharmaceutical processing equipment
Cosmetic processing equipment
Textile dyeing / drying machines
Sterilizers
Water treatment / processing equipment
Pulp and paper processing equipment