Images are representations only.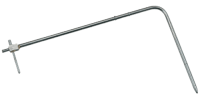 The Series 160E Ellipsoidal Tip Pitot Tube uses a precision crafted tip configuration, which allows air to pass smoothly with minimum turbulence for consistent, reliable readings.

Sliding depth indicators grip firmly to ensure uniform insertion when measuring traverses across ducts.

Total and static pressure taps are 1/4˝ (6 mm) and are permanently silver soldered to the connection block, making them leak-proof and durable.
Features
Designed to meet ISO standard 3966 commonly required in UK and Europe
Ellipsoidal Tip Design for Improved Accuracy
304 Stainless Steel construction adds strength and resists corrosion
Adjustable Depth Indicators for fast, consistent traverses
Alignment Indicator helps keep tip parallel to flow
Specifications
Accessories
Total & Static Pressure Taps are 1/4" (6 mm)
Approvals & Certifications
Insertion 'U' Length
12" (30 cm)
20" (50.8 cm)
32" (81.3 cm)
40" (101.6 cm)
48" (121.9 cm)
60" (152.4 cm)
8" (20.2 cm)
Options
Carrying Case for Pitot Tubes up to 1.22 M
Monitor or control air velocity or air flow when combined with differential pressure gage, switch, or transmitter