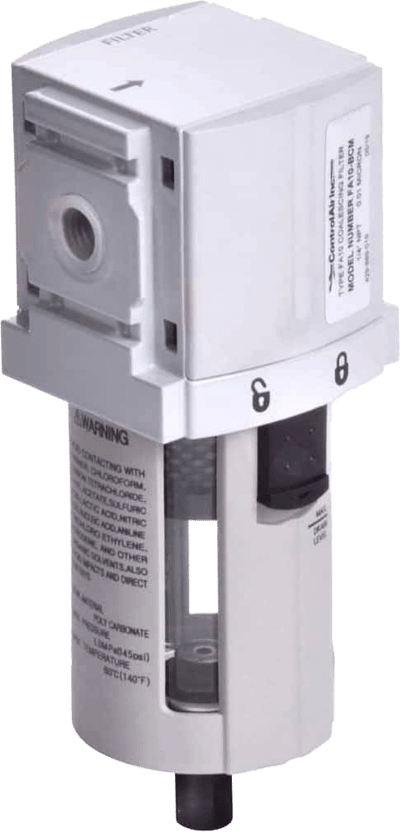 Images are representations only.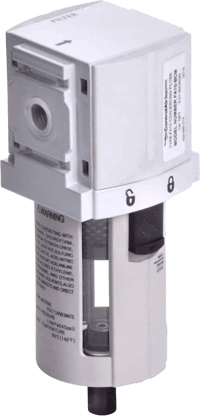 The FA10 Coalescing Filter provides superior filtration while allowing for high flow with minimum pressure drop.

The polycarbonate bowl allows for visual indication of the filtered liquid level. The metal bowl option allows for pressures up to 250 psig.

The quick release lock on the drain bowl allows for fast and easy replacement of the filter element.
Features
1/8", 1/4" or 1/2" NPT Porting 
Removes Liquid Aerosols & Submicron Particles Liquids gravitate to the bottom of the element and will not re-enter the airstream 
Oil-free Air For critical applications, such as air gauging and pneumatic instrumentation and controls. 
Low Pressure Droop 
Optional Metal Bowl For pressures up to 250 psig.
Optional Automatic Drain
Specifications
Operating Pressure Maximum
Port Sizes
1/2" NPT
1/4" NPT
1/8" NPT
Flow Capacities
1/2" - 39 scfm (1100 l/m)
1/4" - 16 scfm (450 l/m)
1/8" - 7 scfm (200 l/m)
Drain Capacities
1/2" 1.89 oz. (56 cm³)
1/4" - 1.28 oz. (39 cm³)
1/8" - 0.51 oz. (15 cm³)