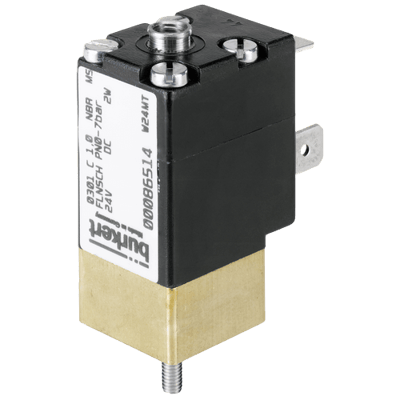 Images are representations only.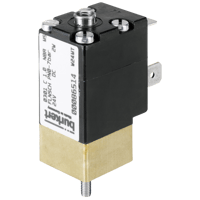 Type 301 is available in a variety of different circuit functions for different applications.

When energized, the solenoid armature is drawn against a spring. The flow path through the valve is dependent on the chosen circuit function.

The solenoid epoxy encapsulation efficiently dissipates the heat generated by the coil.
Features
When de-energized, outlet port exhausted or pressurized
Body materials: brass, polyamide
Fast response times
Compact design 
Specifications
Ambient Temperature Range
Applications
Gas Control, Welding Equipment
Neutral Gases & Liquids
Pneumatic Control
Shut-Off, Dosing, Filling & Ventilating
Small Scale Instruments, Laboratory & Measuring Equipment
Vacuum
Consumption
Power Consumption (AC Hold): 6 VA / 4 W
Power Consumption (AC Inrush): 9 VA
Power Consumption (DC): 4 W or 2 W Depending on Version
Cycling Rate
1,000 cycles/minute - Actuator
Duty Cycle
100 % Continuous Rating for Manifold Assembly Use Reduced Switch-On Time or 2 W Version - Actuator
Electrical Connectors
Plug Connection without Cable Plug
Environmental Protection
Rating with Cable Plug, Cable or Lead: IP65 - Actuator
Flow Rate
Air: 33 to 65 QNn (L/min) [Measured with bar: 6 Upstream Pressure & bar: 1 Pressure Drop Across the Valve at 20° C (68° F)]
Water: 0.030 to 0.060 Kv (m³/hour)
Mounting Position
Preferably with Solenoid System Upright
Operating Voltages
12-24 Vdc
24-240 V / 50 Hz
Orifice Size
0.039" to 0.062" (1 to 1.6 mm)
Pressure Range
psi: 0 to 145 (kPa: 0 to 1,000, bar: 0 to 10) [Also Suitable for Vacuum]
Response Time
Closing: 8 milliseconds
Opening: 12 milliseconds
Seat / Seal Material
Seal: NBR (Fluids Handled: Neutral Fluids, Compressed Air, Water, Hydraulic Oil, Oils & Fat without Additives, Town Gas) - Valve
Seat: Brass
Seat: Polyamide
Temperature Range
EPDM: -40° to 90° C (-40° to 194° F)
FPM: -10° to 100° C (14° to 212° F)
NBR: -10° to 90° C (14° to 194° F)
Tolerance
Voltage Tolerance: ± 10 % - Actuator
Neutral gases and liquids
Pneumatic control
Vacuum
Shut-off, dosing, filling and ventilating
Small scale instruments, laboratory and measuring equipment
Gas control, welding equipment