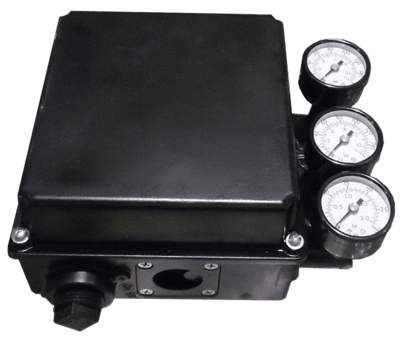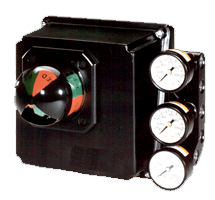 Images are representations only.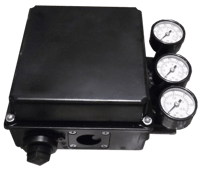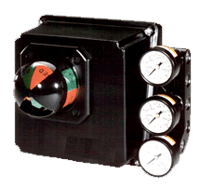 The Series 760 Valve Positioner provide a cost effective universal approach to your valve control.

Their modular concept allows all models to be built on the base pneumatic unit (Model 760P).

The electro-pneumatic model (Model 760E) is created by adding an I/P transducer to the base pneumatic unit, and a wide range of accessories easily installs inside the unit.

The 760 base pneumatic unit provides cam characterization, split ranging, direct or reverse action, and single or double acting without requiring additional parts.

Key design features include non-interaction of the zero and span adjustments.
Features
Universal design and choice of interchangeable NAMUR IEC 534-6 rectilinear VDI/VDE 3845 rotary mountings provide wide application flexibility 
Double-acting or single-acting service and split ranging afford application versatility in a single unit 
Non-interaction of the zero and span adjustments and CAMLOC (TM) cam locking mechanism significantly reduce calibration and setup time 
Modular design reduces inventory because it allows interchangeable spare parts 
Comes standard with 3 cams, linear, quick opening and equal % for application versatility 
Specifications
Actuator Type
Double-Acting
Single Action
Air Consumption
0.5 scfm (0.84 m³/hour) - Standard Spool Typical, Low Gain Spool
1 scfm (1.69 m³/hour) Typical - High Flow Capacity Spool
Approvals & Certifications
ATEX II 2 G EEx ia IIC T4/T5/T6 & II 3 G EEx NL IIC T5
CE EN 50081-1 & EN 50081-2 Emission, EN 61000-6-1 & EN 60000-6-2 Immunity
CSA Intrinsically Safe: Class I, Division 1, Grade A, B, C, D & Class II, Division 1, Groups E, F, G & Class III, Division 1
CSA: Class I, Division 2, Grade A, B, C, D & Class II, Division 2, Groups E, F, G & Class III, Division 2,
FM Class II, Division 2, Groups F, G Class III, Division 2,
FM Intrinsically Safe: Class I, Division 1, Grade A, B, C, D & Class II, Division 1, Groups E, F, G & Class III, Division 1
FM Non-Incendive: Class I, Division 2, Grade A, B, C, D
NAMUR IEC 534-6
SIRA 03-ATEX-2577X & SIRA 03-ATEX-4578
Deadband
Less than or Equal to 0.25 % of Span
Elastomers
Ozone Resistant with Viton Dynamic
Enclosure Finish
Epoxy Powder-Coated
Polyester Powder Coat
Environmental Protection
IP65, in Accordance with IEC Standard 529
NEMA 4X
Flow Capacity
18 scfm (Cv = 0.6) at psi: 60 (bar: 4.13, kPa: 413.7) with 25 % Drop
9 scfm (Cv = 0.3) at psi: 60 (bar: 4.13, kPa: 413.7) with 25 % Drop
Hysteresis
0.75 % of Normal Span Typical - Model 760P
1 % of Normal Span Typical - Model 760E
Input Signal
4-20 mA, 50 % Split Range - Model 760E
psig: 3 to 15 (kPa: 20.7 to 103.4, bar: 0.2 to 1), 50 % Split Range - Model 760P
psig: 3 to 27 (kPa: 20.7 to 186.2, bar: 0.2 to 1.86), 50 % Split Range - Model 760P
psig: 6 to 30 (kPa: 41.37 to 206.8, bar: 0.41 to 2)
Length
1/2 to 6" (12.7 to 152.4 mm) Linear Optional
Linearity
0.5 % of Normal Span Typical - Model 760P
0.75 % of Normal Span Typical - Model 760E
NPT Connection
1/4" NPT Male - Pneumatic & Exhaust
1/8" NPT Male - Gauge
Ratio
160:1 at psig:60 (kPa:413.7, bar:4.137) Standard - Pressure Gain
Rotation
90°, Rotary Standard - Mechanical Feedback
Span & Zero Adjustments
Span: Adjustable -60 to 25 % of Normal Span
Zero: Adjustable -10 to 60 % of Normal Span
Supply Pressure - Maximum
psig: 150 (kPa: 1,034, bar: 10.34)
Supply Pressure Effect
Less than 0.2 % of Span for a psi: 5 (kPa: 34.47, bar: 0.34) Change in Supply Pressure
Switch Type
Mechanical Switch, SPDT
Proximity Switch, NAMUR
Temperature Range
-29° to 149° C (-20° to 300° F) - High Temperature for Model 760P
-40° to 75° C (-40° to 167° F) - Model 760E
-40° to 85° C (-40° to 185° F) - Model 760P