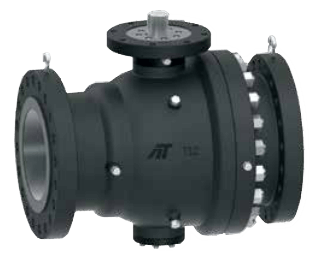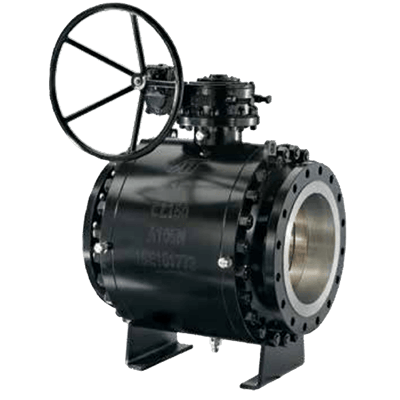 Images are representations only.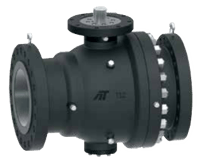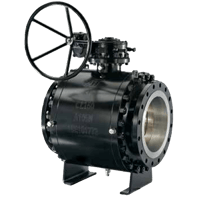 SIL 3 Capable Trunnion mounted ball valves are designed for high pressure applications.

Our valves are designed in accordance with the leading industry standards such as API 6D, API 598 and ASME B16.34.

To ensure product reliability, the valve designs are validated by actual prototype testing that includes a high cycle testing.

The valves are produced by employing state-of-the-art manufacturing technology and under strict quality control standards.
Features
TS2: 2-piece Cast, Available from 2"-12", ANSI Class 150/300
TS3: 3-piece Forged, Availablefrom 2"-48", ANSI Class 150/300/600/900/1500/2500
TSW: Welded Body Forged, Available from 2"-36", ANSI Class 150/300/600
Soft Seat Options - RTFE, Nylon, Devlon®, or PEEK
Fire-safe API 607
Emergency Sealant Injections
Blowout Proof Stem
ISO 5211 Mounting
Anti-static Device
Specifications
Approvals & Certifications
ANSI 150, 300, 600, 900, 1,500, 2,500
API 607 Firesafe, API 6D
ASME B16.34, ASME B16.10, ASME B16.5
CE 97/23/EC
ISO 5211, ISO 9001: 2008
SIL 3
Ball Material
316 Stainless Steel, Tungsten Carbide Coated 316 Stainless Steel, Chrome Carbide Coated 316 Stainless Steel
LF2/ENP, A105N/ENP
Enclosure, Body Material
A216 WCB, A352 LCB, A352 LCC, A105N, A217 WC6, A217 WC9, A350 LF2
CF8M 316, CF3M 316L, CD3MN Duplex, CE3MN Super Duplex, A182 F316
Flange Size - 10" (DN 250)
10" (DN 250) - 150# (Raised Face, Ring Typical Joint)
10" (DN 250) - 1500# (Raised Face, Ring Typical Joint)
10" (DN 250) - 2500# (Raised Face, Ring Typical Joint)
10" (DN 250) - 300# (Raised Face, Ring Typical Joint)
10" (DN 250) - 600# (Raised Face, Ring Typical Joint)
10" (DN 250) - 900# (Raised Face, Ring Typical Joint)
Flange Size - 12" (DN 300)
12" (DN 300) - 150#
12" (DN 300) - 1500# (Raised Face, Ring Typical Joint)
12" (DN 300) - 2500# (Raised Face, Ring Typical Joint)
12" (DN 300) - 300# (Raised Face, Ring Typical Joint)
12" (DN 300) - 600# (Raised Face, Ring Typical Joint)
12" (DN 300) - 900# (Raised Face, Ring Typical Joint)
Flange Size - 14" (DN 350)
14" (DN 350) - 150# (Raised Face, Ring Typical Joint)
14" (DN 350) - 1500# (Raised Face, Ring Typical Joint)
14" (DN 350) - 2500# (Raised Face, Ring Typical Joint)
14" (DN 350) - 300# (Raised Face, Ring Typical Joint)
14" (DN 350) - 600# (Raised Face, Ring Typical Joint)
14" (DN 350) - 900# (Raised Face, Ring Typical Joint)
Flange Size - 16" (DN 400)
16" (DN 400) - 150# (Raised Face, Ring Typical Joint)
16" (DN 400) - 1500# (Raised Face, Ring Typical Joint)
16" (DN 400) - 2500# (Raised Face, Ring Typical Joint)
16" (DN 400) - 300# (Raised Face, Ring Typical Joint)
16" (DN 400) - 600# (Raised Face, Ring Typical Joint)
16" (DN 400) - 900# (Raised Face, Ring Typical Joint)
Flange Size - 18" (DN 450)
18" (DN 450) - 150#
18" (DN 450) - 1500# (Raised Face, Ring Typical Joint)
18" (DN 450) - 2500# (Raised Face, Ring Typical Joint)
18" (DN 450) - 300# (Raised Face, Ring Typical Joint)
18" (DN 450) - 600# (Raised Face, Ring Typical Joint)
18" (DN 450) - 900# (Raised Face, Ring Typical Joint)
Flange Size - 2" (DN 50)
2" (DN 50) - 150# (Raised Face, Ring Typical Joint)
2" (DN 50) - 1500# (Raised Face, Ring Typical Joint)
2" (DN 50) - 2500# (Raised Face, Ring Typical Joint)
2" (DN 50) - 300# (Raised Face, Ring Typical Joint)
2" (DN 50) - 600# (Raised Face, Ring Typical Joint)
2" (DN 50) - 900# (Raised Face, Ring Typical Joint)
Flange Size - 20" (DN 500)
20" (DN 500) - 150# (Raised Face, Ring Typical Joint)
20" (DN 500) - 1500# (Raised Face, Ring Typical Joint)
20" (DN 500) - 2500# (Raised Face, Ring Typical Joint)
20" (DN 500) - 300# (Raised Face, Ring Typical Joint)
20" (DN 500) - 600# (Raised Face, Ring Typical Joint)
20" (DN 500) - 900# (Raised Face, Ring Typical Joint)
Flange Size - 24" (DN 600)
24" (DN 600) - 150# (Raised Face, Ring Typical Joint)
24" (DN 600) - 1500# (Raised Face, Ring Typical Joint)
24" (DN 600) - 2500# (Raised Face, Ring Typical Joint)
24" (DN 600) - 300# (Raised Face, Ring Typical Joint)
24" (DN 600) - 600# (Raised Face, Ring Typical Joint)
24" (DN 600) - 900# (Raised Face, Ring Typical Joint)
Flange Size - 3" (DN 80)
3" (DN 80) - 150# (Raised Face, Ring Typical Joint)
3" (DN 80) - 1500# (Raised Face, Ring Typical Joint)
3" (DN 80) - 2500# (Raised Face, Ring Typical Joint)
3" (DN 80) - 300# (Raised Face, Ring Typical Joint)
3" (DN 80) - 600# (Raised Face, Ring Typical Joint)
3" (DN 80) - 900#
Flange Size - 30" (DN 750)
30" (DN 750) - 150# (Raised Face, Ring Typical Joint)
30" (DN 750) - 1500# (Raised Face, Ring Typical Joint)
30" (DN 750) - 2500# (Raised Face, Ring Typical Joint)
30" (DN 750) - 300# (Raised Face, Ring Typical Joint)
30" (DN 750) - 600# (Raised Face, Ring Typical Joint)
30" (DN 750) - 900# (Raised Face, Ring Typical Joint)
Flange Size - 36" (DN 900)
36" (DN 900) - 150# (Raised Face, Ring Typical Joint)
36" (DN 900) - 1500# (Raised Face, Ring Typical Joint)
36" (DN 900) - 2500# (Raised Face, Ring Typical Joint)
36" (DN 900) - 300# (Raised Face, Ring Typical Joint)
36" (DN 900) - 600# (Raised Face, Ring Typical Joint)
36" (DN 900) - 900# (Raised Face, Ring Typical Joint)
Flange Size - 4" (DN 100)
4" (DN 100) - 150# (Raised Face, Ring Typical Joint)
4" (DN 100) - 1500# (Raised Face, Ring Typical Joint)
4" (DN 100) - 2500# (Raised Face, Ring Typical Joint)
4" (DN 100) - 300# (Raised Face, Ring Typical Joint)
4" (DN 100) - 600# (Raised Face, Ring Typical Joint)
4" (DN 100) - 900# (Raised Face, Ring Typical Joint)
Flange Size - 42" (DN 1050)
42" (DN 1050) - 150# (Raised Face, Ring Typical Joint)
42" (DN 1050) - 1500# (Raised Face, Ring Typical Joint)
42" (DN 1050) - 2500# (Raised Face, Ring Typical Joint)
42" (DN 1050) - 300# (Raised Face, Ring Typical Joint)
42" (DN 1050) - 600# (Raised Face, Ring Typical Joint)
42" (DN 1050) - 900# (Raised Face, Ring Typical Joint)
Flange Size - 48" (DN 1200)
48" (DN 1200) - 150# (Raised Face, Ring Typical Joint)
48" (DN 1200) - 1500# (Raised Face, Ring Typical Joint)
48" (DN 1200) - 2500# (Raised Face, Ring Typical Joint)
48" (DN 1200) - 300# (Raised Face, Ring Typical Joint)
48" (DN 1200) - 600# (Raised Face, Ring Typical Joint)
48" (DN 1200) - 900# (Raised Face, Ring Typical Joint)
Flange Size - 6" (DN 150)
6" (DN 150) - 150# (Raised Face, Ring Typical Joint)
6" (DN 150) - 1500# (Raised Face, Ring Typical Joint)
6" (DN 150) - 2500# (Raised Face, Ring Typical Joint)
6" (DN 150) - 300# (Raised Face, Ring Typical Joint)
6" (DN 150) - 600# (Raised Face, Ring Typical Joint)
6" (DN 150) - 900# (Raised Face, Ring Typical Joint)
Flange Size - 8" (DN 200)
8" (DN 200) - 150# (Raised Face, Ring Typical Joint)
8" (DN 200) - 1500# (Raised Face, Ring Typical Joint)
8" (DN 200) - 2500# (Raised Face, Ring Typical Joint)
8" (DN 200) - 300# (Raised Face, Ring Typical Joint)
8" (DN 200) - 600# (Raised Face, Ring Typical Joint)
8" (DN 200) - 900# (Raised Face, Ring Typical Joint)
NACE & NIST
NACE MR-0175, NACE MR-0103
Port
Full
Reduced (Standard, Regular)
Seat / Seal Material
316 Stainless Steel / Stellite, Tungsten Carbide Coated 316 Stainless Steel, Chrome Carbide Coated 316 Stainless Steel
DEVLON
PEEK
RTFE (Reinforced Teflon)
Welded Connection
10" Weld End (Pipe Schedule: 10, 20, 30, 40, 60, 80, 100, 120, 140, 160, XH, XXH, ANSI Class: 150, 300, 600, 900, 1500, 2500)
12" Weld End (Pipe Schedule: 10, 20, 30, 40, 60, 80, 100, 120, 140, 160, XH, XXH, ANSI Class: 150, 300, 600, 900, 1500, 2500)
14" Weld End (Pipe Schedule: 10, 20, 30, 40, 60, 80, 100, 120, 140, 160, XH, XXH, ANSI Class: 150, 300, 600, 900, 1500, 2500)
16" Weld End (Pipe Schedule: 10, 20, 30, 40, 60, 80, 100, 120, 140, 160, XH, XXH, ANSI Class: 150, 300, 600, 900, 1500, 2500)
18" Weld End (Pipe Schedule: 10, 20, 30, 40, 60, 80, 100, 120, 140, 160, XH, XXH, ANSI Class: 150, 300, 600, 900, 1500, 2500)
2" Weld End (Pipe Schedule: 10, 20, 30, 40, 60, 80, 100, 120, 140, 160, XH, XXH, ANSI Class: 150, 300, 600, 900, 1500, 2500)
20" Weld End (Pipe Schedule: 10, 20, 30, 40, 60, 80, 100, 120, 140, 160, XH, XXH, ANSI Class: 150, 300, 600, 900, 1500, 2500)
24" Weld End (Pipe Schedule: 10, 20, 30, 40, 60, 80, 100, 120, 140, 160, XH, XXH, ANSI Class: 150, 300, 600, 900, 1500, 2500)
3" Weld End (Pipe Schedule: 10, 20, 30, 40, 60, 80, 100, 120, 140, 160, XH, XXH, ANSI Class: 150, 300, 600, 900, 1500, 2500)
30" Weld End (Pipe Schedule: 10, 20, 30, 40, 60, 80, 100, 120, 140, 160, XH, XXH, ANSI Class: 150, 300, 600, 900, 1500, 2500)
36" Weld End (Pipe Schedule: 10, 20, 30, 40, 60, 80, 100, 120, 140, 160, XH, XXH, ANSI Class: 150, 300, 600, 900, 1500, 2500)
4" Weld End (Pipe Schedule: 10, 20, 30, 40, 60, 80, 100, 120, 140, 160, XH, XXH, ANSI Class: 150, 300, 600, 900, 1500, 2500)
42" Weld End (Pipe Schedule: 10, 20, 30, 40, 60, 80, 100, 120, 140, 160, XH, XXH, ANSI Class: 150, 300, 600, 900, 1500, 2500)
48" Weld End (Pipe Schedule: 10, 20, 30, 40, 60, 80, 100, 120, 140, 160, XH, XXH, ANSI Class: 150, 300, 600, 900, 1500, 2500)
6" Weld End (Pipe Schedule: 10, 20, 30, 40, 60, 80, 100, 120, 140, 160, XH, XXH, ANSI Class: 150, 300, 600, 900, 1500, 2500)
8" Weld End (Pipe Schedule: 10, 20, 30, 40, 60, 80, 100, 120, 140, 160, XH, XXH, ANSI Class: 150, 300, 600, 900, 1500, 2500)