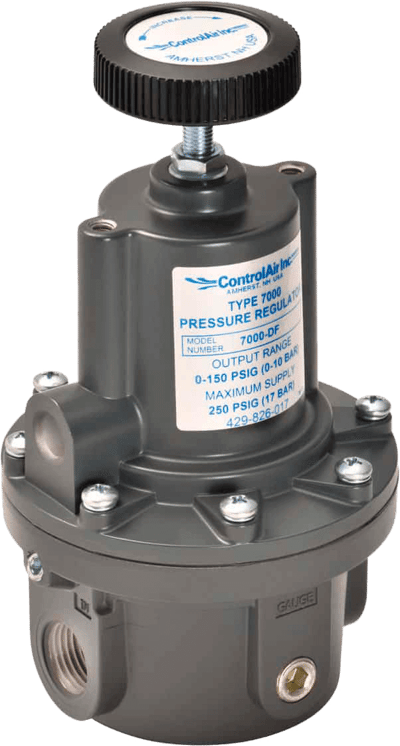 Images are representations only.
Type 7000 Precision Air Pressure Regulator
Brand:
ControlAir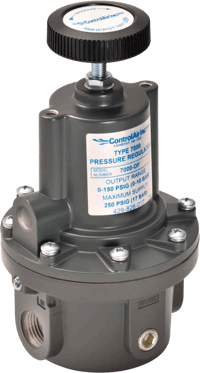 For applications that require high flow capacity.

The Type 7000 regulator provides high flow capacity while maintaining high accuracy, low droop and precise adjustment during variable high flow conditions.

Multiple port size options and rugged construction make the Type 7000 regulator suitable for many applications.

The Type 7000 utilizes an isolated control chamber to minimize output variation and vibration/honking during flow conditions.

An integral aspirator tube helps maintain downstream pressure by compensating for pressure droop during flow conditions.

The balanced supply valve virtually eliminates changes to supply pressure variation.
Specifications
Port Size
1/2" NPT
3/4" NPT
1/4" NPT
Output Range
0 to 2 psig (0 to 0.15 bar)
0 to 10 psig (0 to 0.7 bar)
0 to 15 psig (0 to 1.0 bar)
0 to 30 psig (0 to 2 bar)
0 to 60 psig (0 to 4 bar)
0 to 100 psig (0 to 6.89 bar)
0 to 150 psig (0 to 10 bar)
0 to 200 psig (0 to 13.8 bar)
Supply Pressure Sensitivity
Less than 0.3 psig for A 100 psig Change (0.021 bar for A 6.7 bar Change)
Air Consumption
From 1.0 to 12.5 scfh (30 to 375 Nl/Hr), Depending on Output Pressure Range
Ambient Temperature Limits
-40° to +200° F (-40° to 93° C)
Other Material
Aluminum
Plated Steel
Brass
Stainless Steel
Nitrile
Phenolic Plastic