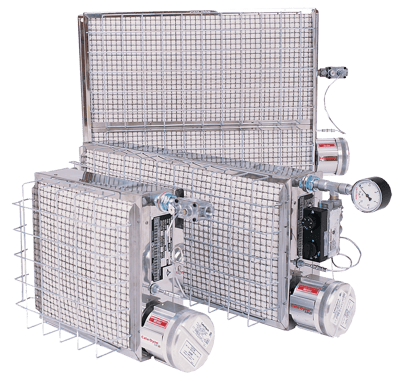 Images are representations only.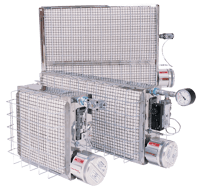 Our Cata‑Dyne™ MKII Series explosion-proof catalytic heater has sleek side mount controls ideal for customers seeking to reduce costs with easier and quicker heater installation.
Features
Heater box constructed of 300 series stainless steel for corrosion protection
Cata‑Dyne™ proprietary explosion-proof catalyst pad
Standard 3/8" NPT gas connections
Cata‑Dyne™ heaters are designed to operate on either natural gas or propane
Cata‑Dyne™ heaters do not require electrical power to operate once they have been started
Our QuikSTART heater technology reaches the catalytic threshold faster, bringing the heater to full operating temperature in half the time
Shorter thermocouple is nickel plated with an added polymer sleeve to enhance the corrosion protection for a stronger electromagnetic connection to the safety shut-off valve (SSOV)
All gas control components as well as all electrical connections are side mounted for easy installation and access
Side mounted rating plate for easy visibility
Single start up element with the same power and wattage rating as used in the standard WX heaters dual elements
Heater contains no moving parts and is designed to operate indefinitely when supplied with air and clean fuel
Internal heater components such as our proprietary catalyst pad and preheat Caloritech™ tubular element are manufactured in‑house
Specifications
Agency Approvals
CSA Class I, Div. 1 & 2, Group D
FM Class I, Div. 1, Group D
Enclosure, Body Material
Heater Box: 300 Series Stainless Steel
The Cata‑Dyne™ MKII Series heaters are used in many different applications that involve spot or space heating where hazardous materials may be present.

These include:

Comfort heating for industrial buildings and installations
Freeze protection for equipment or components
Drying or curing processes