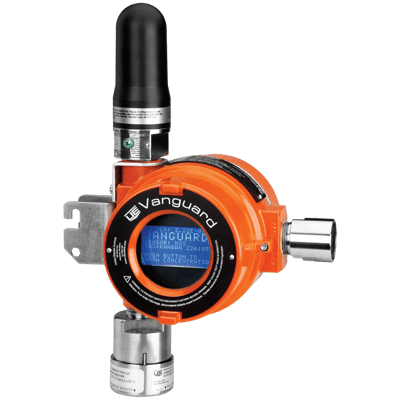 Images are representations only.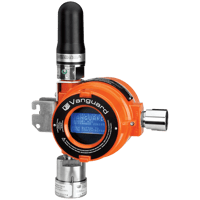 The device is an explosion-proof and intrinsically safe, WirelessHART point gas detector used for the detection and monitoring of harmful gases in air, in order to help maintain a safe environment. A field-interchangeable gas sensor module provides detection of hydrogen sulfide (H2S) or methane (CH4) gas.

Gas measurement readings in parts per million (ppm) or lower explosive limit (%LEL) are communicated along with network and battery status via a local, digital display, and WirelessHART 7.2 communication protocol. The device seamlessly integrates with existing supervisory control and data acquisition (SCADA) or asset management (AMS) systems.
Specifications
Accuracy
Hydrogen Sulfide (H₂S) of Sensor: ± 10 ppm
Methane (CH₄) of Sensor: ± 2 % LEL or ± 5 % of Indication whichever is greater
Approvals & Certifications
Approvals & Certifications
CE
ETL
Ex
IEC 62591
IEC Ex
Battery Life
5-Years based on an 8 seconds Update Rate
Communication
Antenna
Wireless HART 7.2
Current
Average Battery Current: < 110 µA Typical (with H₂S Sensor), < 300 µA Typical (with CH₄ Sensor)
Display
128 x 64 Pixel Graphic
Base Transmitter: Graphical LCD Display
Base Transmitter: Viewable Area 2.25" W x 1.25" H (57.2 x 31.8 mm)
Environmental Protection
Explosion-proof
Intrinsically Safe
IP66
NEMA 4X
Frequency
Antenna of Base Transmitter: 2.4 GHz, Hazardous Area Antenna
Humidity
Storage Humidity of Sensor, Base Transmitter: 0 to 98 % Relative Humidity
Materials of Construction
Base Transmitter: 316 Stainless Steel
Base Transmitter: Aluminum Alloy, Max.
Base Transmitter: Nickel-Plated Brass
Base Transmitter: Tempered Glass
Measuring Range
Hydrogen Sulfide (H₂S) of Sensor: 0 to 100 ppm
Methane (CH₄) of Sensor: 0 to 100 % Lower Explosive Limit (LEL)
Mounting
Base Transmitter: 2" Pipe Mounting Bracket
Wall Mounted
Mounting Position
Horizontal Pipe Mount
Vertical Pipe Mount
Operating Temperature
Base Transmitter: -20° to 60° C (-4° to 140° F)
Sensor: -20° to 50° C (-4° to 122° F)
Repeatability
Hydrogen Sulfide (H₂S) of Sensor: ± 10 ppm
Methane (CH₄) of Sensor: ± 2 % LEL
Resolution
Hydrogen Sulfide (H₂S) of Sensor: 1 ppm
Methane (CH₄) of Sensor: 1 % LEL
Response Time
Hydrogen Sulfide (H₂S) of Sensor: 60 seconds
Methane (CH₄) of Sensor: 30 seconds
Sensor, Probe Type
Hydrogen Sulfide (H₂S) of Sensor: Electrochemical
Methane (CH₄) of Sensor: Non-Dispersive Infrared Optical