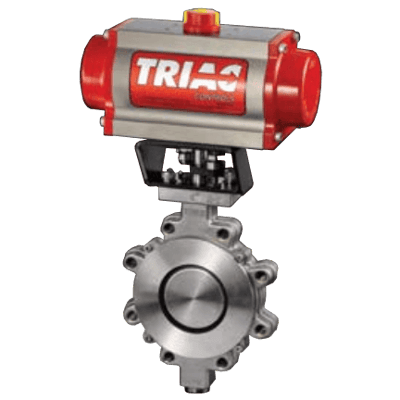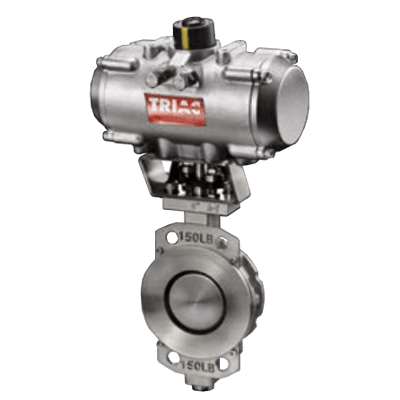 Images are representations only.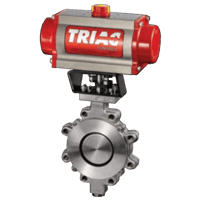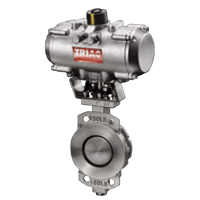 Features
Available inventory includes sizes 2" to 36".
Standard body materials are 316 Stainless Steel or WCB. Application specific options include: Alloy 20, Monel, CD3MN, Hastelloy® C-276, Inconel® 625, Aluminum Bronze, LCB and others.
ANSI/ASME Class 150 and 300 Lug and Wafer.
New & improved standard seat material: G2TFE. The new G2TFE seat contains 80% PTFE, 15% glass fiber and 5% molybdenum. The molybdenum is an element found in stainless steels which adds lubricity and longevity to the seat. Standard seat materials are G2TFE (soft seat), G2TFE/316L Stainless Steel (Firesafe), and 316L Stainless Steel (metal seat). Application specific seat materials include: 50/50 STFE, PTFE, TFM-1600 and Inconel® 625.
Standard Stem Material is 17-4 PH ®. Another option is XM-19.
Soft seat and Firesafe seat designs offer bubble-tight, bi-directional shutoff to full ANSI/ASME Class 150 and 300 standards. Metal seat design offers Class V shutoff.
Blow out proof stem design.
Specifications
Approvals & Certifications
ATEX 94/9/EC
CE 97/23/EC
CRN
FCI 70-2
IEC 61508: 2010
ISO 5211
Approvals & Certifications
API-598/607/609
MSS-SP-25, MSS SP-55, MSS SP-67, MSS SP-68
Bearing Material
Bronze
Carbon Graphite
PTFE Composite
Cover Material
Stainless Steel - Bottom Cover, Belleville Washer Cover
Disc Material
Alloy 20 or Incoloy
Aluminum Bronze
Carbon Steel (A351 Grade CF8M-316/HCr)
Disc Pin: Stainless Steel (A351 Grade CF8M-316 / HCr)
Hastelloy C-276
Inconel 625
Monel
Enclosure, Body Material
316L Stainless Steel
Alloy 20 or Incoloy
Aluminum Bronze
Carbon Steel (A216-WCB/LCB)
Cast Stainless Steel (CD3MN)
Hastelloy C-276
Inconel 625
Monel
Stainless Steel (A351 Grade CF8M-316)
Flange Size - 10" (DN 250)
10" (DN 250) - 150#
10" (DN 250) - 300#
Flange Size - 12" (DN 300)
12" (DN 300) - 150#
12" (DN 300) - 300#
Flange Size - 14" (DN 350)
14" (DN 350) - 150#
14" (DN 350) - 300#
Flange Size - 16" (DN 400)
16" (DN 400) - 150#
16" (DN 400) - 300#
Flange Size - 18" (DN 450)
18" (DN 450) - 150#
18" (DN 450) - 300#
Flange Size - 2" (DN 50)
2" (DN 50) - 150#
2" (DN 50) - 300#
Flange Size - 20" (DN 500)
20" (DN 500) - 150#
20" (DN 500) - 300#
Flange Size - 2-1/2" (DN 65)
2-1/2" (DN 65) - 150#
2-1/2" (DN 65) - 300#
Flange Size - 24" (DN 600)
24" (600) - 150#
24" (600) - 300#
Flange Size - 26" (DN 650)
26" (DN 650) - 150#
26" (DN 650) - 300#
Flange Size - 28" (DN 700)
28" (DN 700) - 150#
28" (DN 700) - 300#
Flange Size - 3" (DN 80)
3" (DN 80) - 150#
3" (DN 80) - 300#
Flange Size - 30" (DN 750)
3" (DN 750) - 150#
3" (DN 750) - 300#
Flange Size - 32" (DN 800)
32" (DN 800) - 150#
32" (DN 800) - 300#
Flange Size - 36" (DN 900)
36" (DN 900) - 150#
36" (DN 900) - 300#
Flange Size - 4" (DN 100)
4" (DN 100) - 150#
4" (DN 100) - 300#
Flange Size - 40" (DN 1000)
40" (DN 1000) - 150#
40" (DN 1000) - 300#
Flange Size - 44" (DN 1100)
44" (DN 1100) - 150#
44" (DN 1100) - 300#
Flange Size - 48" (DN 1200)
48" (DN 1200) - 150#
48" (DN 1200) - 300#
Flange Size - 5" (DN 125)
5" (DN 125) - 150#
5" (DN 125) - 300#
Flange Size - 6" (DN 150)
6" (DN 150) - 150#
6" (DN 150) - 300#
Flange Size - 8" (DN 200)
8" (DN 200) - 150#
8" (DN 200) - 300#
Flow Rate
1 to 100,500 Cv - ANSI Class 150
1 to 90,450 Cv - ANSI Class 300
Gland Packing Material
Carbon Steel - Gland Packing Flange
Stainless Steel - Packing Gland Nuts & Studs
Materials of Construction
304 Stainless Steel - Thrust Bearing
410 Stainless Steel - Thrust Bearing
Carbon Steel - Bracket Washer, Bracket, Belleville Washers & Low/Upper Bearing
Metaloplast (316 Stainless Steel+RTFE) - Lower/Upper Bearing
Stainless Steel - Clamp Plate (Wafer Only), Belleville Washer Cover, Clamps
Nut & Bolt Material
Carbon Steel - Bracket Bolt
Stainless Steel - Clamps, Clamp Bolt, Nut, Stud, Packing Gland Nut/Stud/Flange
Pressure Range
psi: 0 to 740 (kPa: 0 to 5,100, bar: 0 to 51)
Ring Material
Carbon Steel - Retainer Ring
Seat / Seal Material
Seat Gasket: PTFE
Seat: 50/50 STFE
Seat: G2TFE
Seat: Inconel 625
Seat: TFM-1600
Secondary Seat: 316L Stainless Steel (Firesafe & Metal Seat)
Shaft Material
630 Stainless Steel (17-4 PH)
Inconel 718
K-Monel
Stainless Steel (XM-19 & Duplex 2205)
Stem Material
630 Stainless Steel (17-4 PH)
K-Monel
Stainless Steel (XM-19)
Temperature Range
-73° to 593° C (-100° to 1,100° F)
Torque
195 to 3,59,988 In/Lbs - ANSI Class 150
195 to 8,98,856 In/Lbs - ANSI Class 300