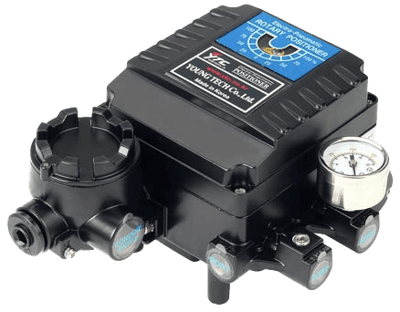 Images are representations only.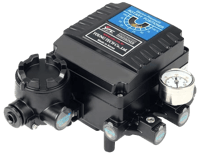 The YT-1000R & YT-1000L are advanced electro-pneumatic valve controllers for single or double acting rotary or linear actuators.

No additional parts are necessary to change between single or double-acting actuators and direct or reverse acting.

When the input signal current from the controller increases, the plate spring of the torque motor works as a pivot. As the armature receives the rotary torque in the counter-clockwise direction, the counter weight is pushed to the left. This will move the flapper to the left through the connecting spring, the gap between the nozzle and flapper widens causing the nozzle back pressure to drop.

As a result, the pressure balance in the constant pressure chamber is broken, and the exhaust valve presses the inlet valve b to the right. Then the inlet port B opens, and the output pressure OUT1 increases.

The movement of the exhaust valve to the right also open exhaust port A, this causes the output pressure OUT2 to decrease. The increased port pressure of OUT1 and decreased port pressure of OUT2 generates a pressure differential across the actuator pistons. This will cause the pistons to rotate the pinion creating feedback to the positioner cam.

The rotation of the cam increases the tensile force of the feedback spring acting on the balance lever. The actuator will rotate until the tensile force of the feedback spring and the force of the bellows are balanced. When the input signal decreases, the operation is reversed.
Features
Corrosion Resistant Coated Aluminum Diecast Housing stands up to Harsh Environments 
Pilot Valve Design reduces Air Consumption by More than 50% 
Vibration Resistant Design maintains Superior Performance in Poor Conditions - No Resonance Effects from 5 to 200 Hz 
Optional Gauges and Orfices 
Specifications
Actuator Type
Double-Acting
Linear
Rotary
Single Action
Approvals & Certifications
Enclosure Finish
Corrosion-Resistant Coating
Environmental Protection
Dust-Proof
Explosion-proof ExiaIIBT6, ExdmIIBT6, ExdmIICT6
IP66
Weatherproof
Flow Capacity
7 scfm (11.89 m³/hour) - Maximum
Frequency
No Resonance Effects from 5 to 200 Hz
Operating Temperature
-20° to 70° C (-4° to 160° F)
Supply Pressure
psig: 20 to 100 (kPa: 137.9 to 689.5, bar: 1.37 to 6.89)