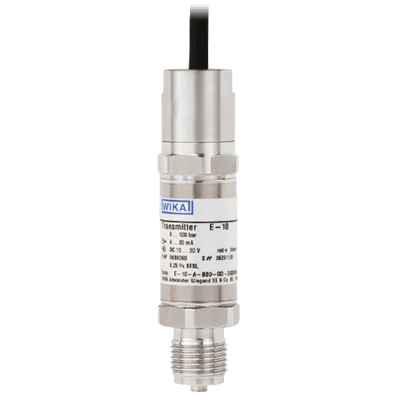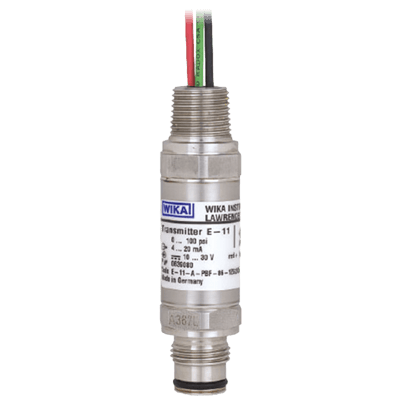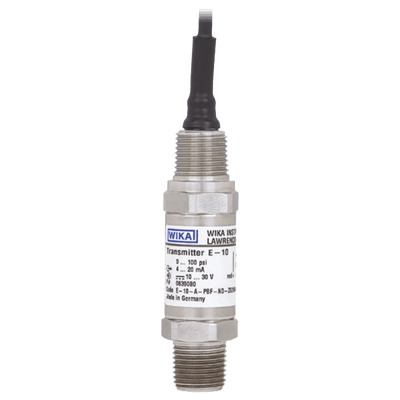 Images are representations only.
Model E-10 & E-11 Pressure Transmitter with Flameproof Enclosure
Brand:
WIKA Instruments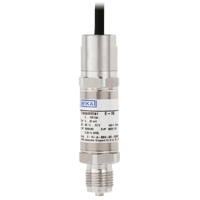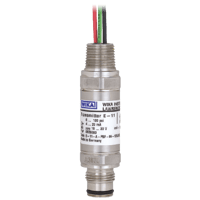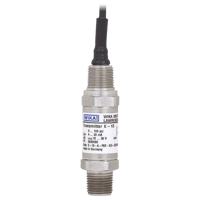 The model E-10 and E-11 flameproof pressure transmitters have been designed specifically for the high demands of industrial oil and gas applications.

These pressure transmitters can be delivered with various Analog signals from 4-20 mA to a low-power version with DC 1-5 V.

They feature an exceptionally high resistance to vibration, pressure spikes and moisture ingress. Furthermore, these pressure transmitters fulfill IP 67 (NEMA 4X) ingress protection.

On each individual instrument a comprehensive quality control and calibration is performed, so that an accuracy of ≤ 0.25 % BFSL can be ensured. Temperature compensation guarantees accuracy and long-term stability, even with strong fluctuations in the ambient temperature.

The models E-10 and E-11 are suitable for sour gas applications and feature particularly high resistance against sulphide stress cracking when in contact with sulphurous gases.

The pressure transmitters are approved as "explosionproof" for class I, II, III, div. 1 hazardous areas to FM and CSA as well as "flameproof" for II 2 G Ex d II C to ATEX.
Features
CSA and FM approved as "explosionproof" for class I, div. 1 hazardous areas
ATEX approved as "flameproof enclosure" for II 2 G Ex d II C
Current or voltage output
Designed for harsh ambient conditions
Low-power version available as an option
Specifications
Ambient Temperature Range
-40° to 105° C (-40° to 221° F)
Applications
Drilling Platforms & Pipelines
Natural Gas Compressors
Refineries & Petrochemical Industry
Wellhead Monitoring
Approvals & Certifications
ATEX - II 2 G Ex d IIC T6 to T1
ATEX Directive - 94/9/EC. ATEX, Flameproof (Ex d), EN 60079-0, EN 60079-1, EU
BelCT
CE
CPT
CRN
CSA - Class 2258 02, Class 2258 82, Canada
CSA - Class I, Div. 1, Groups A, B, C, D. Class II, Div. 1, Groups E, F, G, Class III, Div. 1. Typical 4X.
CT
DEKRA
EAC
EMC Directive - 2004/108/EC, EN 61326 Emission (Group 1, Class B) & Interference Immunity (Industrial Application)
Ex
FM - Explosion-proof Class 3600, Class 3615, Class 3810, NEMA -250, USA
FM - XP, I, Div. 1, Groups A, B, C, D, T6, T4. DIP, II, III, Div. 1, Groups E, F, G, T6, T4 Typical 4.
GOST-R - Import Certificate, Russia
IECEx
INMETRO
KazlnMetr
KOSHA - 11-AV4BO-0514, Korea
PED: 97/23/EC
UkrSEPRO
UZSTANDARD
BSP Connection
G 1" B Flush Male (Model E-11)
G 1/2" B Male EN 837 (Model E-10) / G 1/2" B Flush Male (Model E-11)
G 1/4" A Female (Model E-10)
G 1/4" A Male DIN 3852-E (Model E-10) / G 1/4" B Male EN 837 (Model E-10)
Cable Material
Polyolefin
Polyolefin Copolymer
PVC
Electrical Connectors
1/2" NPT Male Conduit Connection with Potted Cable Outlet/Leads
Cable Outlet
NPT Connection
1/2" NPT Male ANSI/ASME B1.20.1 (Model E-10)
1/4" NPT Female (Model E-10)
1/4" NPT Male ANSI/ASME B1.20.1 (Model E-10)
1/8" NPT Male ANSI/ASME B1.20.1 (Model E-10)
Output
0.5 - 4.5 Vdc (Voltage 3-Wire)
0-10 Vdc (Voltage 3-Wire)
0-5 Vdc (Voltage 3-Wire)
1-5 Vdc (Voltage 3-Wire)
4-20 mA (Current 2-Wire)
Overpressure & Static Pressure Limits
psi: 45 to 21,750 (kPa: 310 to 150,000, bar: 3.1 to 1,500)
Power Supply
10-30 Vdc - Output Signal: 4-20 mA / 0-5 Vdc
14-30 Vdc - Output Signal: 0-10 Vdc
5 Vdc ± 10 % - Output Signal: 0.5-4.5 Vdc
6-30 Vdc - Output Signal: 1-5 Vdc
Pressure Range
bar: 0 to 1,000
kPa: 0 to 100,000
psi: 0 to 15,000
Repeatability
Non-Repeatability: ≤ 0.1 % of Span
Seat / Seal Material
EPDM (Model E-11)
FPM (Model E-11)
NBR (Model E-11)
Shock
1,000 G (Mechanical Shock)
Storage Temperature
-40° to 105° C (-40° to 221° F)
Temperature Range
-40° to 100° C (-40° to 212° F)
Wetted Materials
Elgiloy (Model E-10)
Stainless Steel
Borehole monitoring
Refineries and petrochemical industry
Drilling platforms and pipelines
Gas compressors