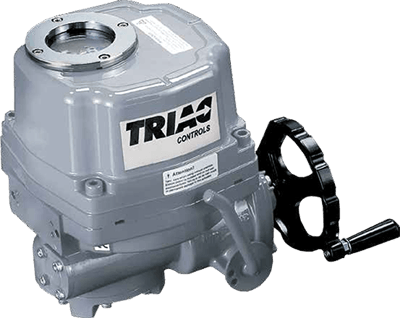 Images are representations only.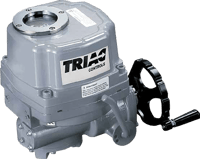 The Triac XC Series Actuators are CSA Certified Type 4, 4X, 6 & 7 for hazardous locations and meet UL 1203 standard.

The actuators are rugged and reliable with powder coated anodized aluminum housing for use in Oil, Gas, Chemical & Power Gen applications.

The XC Series is the perfect match for resilient or high-performance butterfly valves and dampers because of the self-locking, double reduction worm drive and torque switches.

The XC Series is also ideal for ball, plug or any rotary valve requiring automation in a hazardous location.
Features
Visual position indicator 
Torque switches (XC-01350 – XC-25900) 
Anti-condensation heater and thermostat 
Two auxiliary limit switches 
Self-locking gear train 
Manual handwheel with torque from 690 in-lbs to 25900 in-lbs 
Available motor voltages: 12VDC, 24VDC, 24VAC, 120VAC & 220VAC 
Optional proportional control 
Various inputs with feedback available
Specifications
Actuator Type
2-Position Control - Open/Close
TDC Modulating Card (Provides 450-Points of Resolution)
Ambient Temperature Range
Approvals & Certifications
Environmental Protection
Explosion-proof, Typical Type 4, 4X, 6 & 7, IP66/IP67 (CSA)
Motor Voltages
110 Vac / 1-Phase
12 Vdc (Sizes 00690 & 00860 Only)
220 Vac / 1-Phase
24 Vac / 1-Phase (N/A for Sizes 04400 - 25900)
24 Vdc (N/A for Sizes 04400 - 25900) Requires Additional Relays for Customer Supplied Wiring
Options
180° Operation
4-20 mA Transmitter
Torque
1,350 In/Lbs
1,700 In/Lbs
10,500 In/Lbs
17,500 In/Lbs
2,640 In/Lbs
25,900 In/Lbs
4,400 In/Lbs
5200 In/Lbs
6,900 In/Lbs
690 In/Lbs
For use in Oil, Gas, Chemical & Power Gen applications.