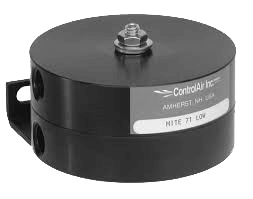 Images are representations only.
Super Mite 71 Snap-Acting Pneumatic Relay
Brand:
ControlAir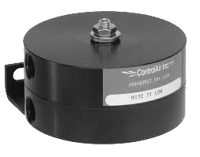 The Mite Series of pneumatic relays offer precise control of air or gas service. Their snap-acting design automatically trips on either an increasing or decreasing signal.

Mites are rugged, compact units engineered for high density applications. They are constructed to last and "make decisions" with crisp precision, cycle after cycle.

The Super Mite 71 will automatically select the higher or lower of two pneumatic inputs and pass it downstream while blocking the other.

Capable of almost instantaneous selection, the Super Mite 71 can separate pressure differentials as low as a tenth of a psi.

Although ordered as either high or low pass, the Super Mite 71 can easily be converted in the field from one to the other.

The Super Mite 71 can be relied on to open or close valves when a signal pressure drops or rises past a determined value. They can also be used to prevent a valve from opening or closing beyond a critical point.
Features
Maximum Pressure Rating: psig: 100 (bar: 7, kPa: 700) 
Ambient Temperature: -40° to 82.2°C (-40° to 180°F) 
Port Size: 1/4" 
Port Threads: NPT 
Materials of Construction: Aluminum, Plated Steel, Neoprene, Brass and Stainless Steel 
Specifications
Materials of Construction
316L Stainless Steel
Aluminum
Brass
Neoprene
Plated Steel
NPT Connection
1/4" NPT Female with 1/8" Internal Ports
Supply Pressure - Maximum
bar: 7
kPa: 700
psig: 100
Temperature Range
-40° to 82° C (-40° to 180° F)