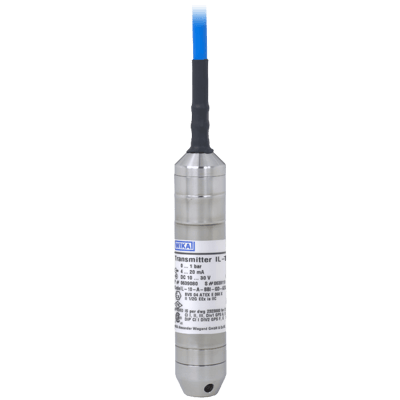 Images are representations only.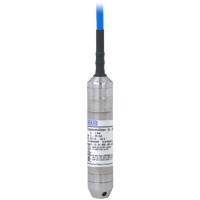 For the Highest Demands

The intrinsically safe model IL-10 submersible pressure transmitter has been designed for the highest requirements of level measurement. Owing to its high accuracy, reliability and its excellent media resistance, it is the ideal solution for almost all level measurements in hazardous areas.

Especially noteworthy are the outstanding approval-related characteristics (IECEx and ATEX). In addition, the IL-10 has the North-American approvals FM (USA) and CSA (Canada).

Design

A hermetically sealed and robust stainless steel case with ingress protection IP68 enables immersion depths of up to 300 m.

The submersible pressure transmitter is supplied with a power supply of DC 10 ... 30 V via a suitable isolated barrier and provides an output signal of 4 ... 20 mA, 2-wire.
Features
Suitable for all level measurements in hazardous areas
Explosion protection in accordance with IECEx, ATEX, FM and CSA
Shipbuilding approval in accordance with GL
Ingress protection IP68 up to 300 m immersion depth
Specifications
Accuracy
≤ ± 0.25 % of Span - Including Non-Linearity, Hysteresis, Zero Offset & End Value Deviation (Corresponds to Measured Error Per IEC 61298-2)
≤ ± 0.5 % of Span
Ambient Temperature Range
-30° to 105° C (-22° to 221° F)
Applications
Brackish Water & Fuel Tanks in Shipbuilding
Mining & Gas Extraction
Oil & Fuel Storage Tanks
Wastewater Treatment & Biogas Production
Approvals & Certifications
ATEX - Ex I, Zone 1 Gas, [II 2 G Ex ia IIC T4/T5/T6 Gb]
ATEX - Mining, [I M1 Ex ia I Ma]
ATEX - Zone 0 Gas, [II 1 G Ex ia IIA T4/T5/T6 Ga]
ATEX - Zone 1 Mounting to Zone 0 Gas, [II 1/2 G Ex ia IIC T4/T5/T6 Ga/Gb]
ATEX - Zone 20 Dust, [II 1D Ex ia IIIC T120° C Da]
BelCT
CE
CRN - Safety (e.g. Electr. Safety, Overpressure, to), Canada
CSA - Canadian Zone Designation: Class I, Zone 0, Ex ia, IIC, IP65, DIP A20
CSA - Hazardous Areas, Class I, Div. 1, Groups A, B, C, D. Class II, Groups E, F, G, Class III.
CSA - Safety (e.g. Electr. Safety, Overpressure, to)
CSA - US Zone Designation: Class I, Zone 0, AEx ia, IIC, IP65
EAC - Hazardous Areas, Ex I, Zone 1 Gas, [1ExiaIICT4/T5/T6 X]
EAC - Mining, [POExiaI X]
EAC - Zone 0 Gas, [0ExiaIIAT4/T5/T6 X]
EAC - Zone 1 Mounting to Zone 0 Gas, [1ExiaIICT4/T5/T6 X]
EAC - Zone 20 Dust, [Ex iaD 20 T80° C X]
EMC
EN 61326 Emission (Group 1, Class B) & Interference Immunity (Industrial Application)
Ex
FM - Class I, Zone 0, AEx ia IIC
FM - Dust Ignition-proof for Class II, III, Div. 2, Groups F, G
FM - Hazardous Areas, Intrinsically Safe Class I, II & III, Div. 1, Grade A, B, C, D, E, F, G
GL - Ships, Shipbuilding (e.g. Offshore)
GOST
IECEx - Hazardous Areas, Ex I, Zone 1 Gas, [Ex ia IIC T4/T5/T6 Gb]
IECEx - Mining, [Ex ia I Ma]
IECEx - Zone 0 Gas, [Ex ia IIA T4/T5/T6 Ga]
IECEx - Zone 1 Mounting to Zone 0 Gas, [Ex ia IIC T4/T5/T6 Ga/Gb]
IECEx - Zone 20 Dust, [Ex ia IIIC T120° C Da]
INMETRO - Hazardous Areas, Ex I, Zone 1 Gas, [Ex ia IIC T4/T5/T6 Gb]
INMETRO - Metrology, Measurement Technology
INMETRO - Mining, [Ex ia I Ma]
INMETRO - Zone 0 Gas, [Ex ia IIA T4/T5/T6 Ga]
INMETRO - Zone 1 Mounting to Zone 0 Gas, [Ex ia IIC T4/T5/T6 Ga/Gb]
INMETRO - Zone 20 Dust, [EX Ia IIIC T120° C Da]
KazlnMetr
UkrSEPRO
UZSTANDARD
BSP Connection
G 1/2" B Male
G 1/4" Female Thread (Only in Hastelloy)
Enclosure, Body Material
316L Stainless Steel
Hastelloy
Overpressure & Static Pressure Limits
psi: 55 to 360 (kPa: 380 to 2.480, bar: 3.8 to 24.8)
Pressure Range
bar: 0 to 25
Inches WC: 0 to 250
kPa: 0 to 2,500
psi: 0 to 300
Repeatability
Non-Repeatability: ≤ ± 0.1 % of Span
Storage Temperature
-10° to 60° C (14° to 140° F)
Temperature Range
-30° to 105° C (-22° to 221° F)
Wetted Materials
316L Stainless Steel
FEP
Hastelloy
Polyurethane
Wastewater treatment and biogas production
Brackish water and fuel tanks in shipbuilding
Oil and fuel storage tanks
Mining and gas extraction