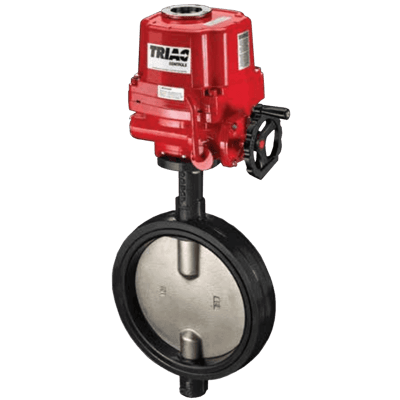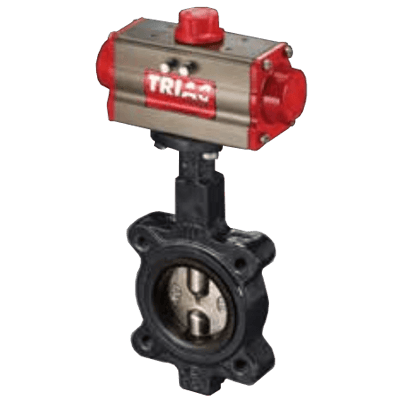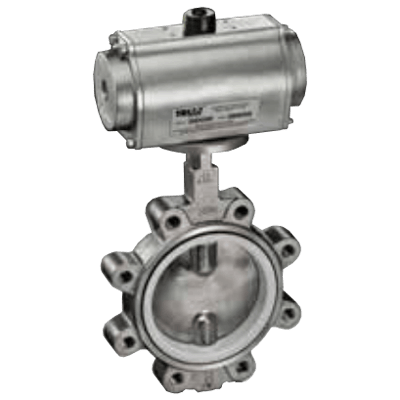 Images are representations only.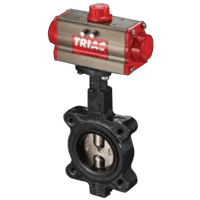 Butterfly Valves cover a wide range of industries from General Purpose to Chemical, Food and Beverage, Pulp and Paper, Waste Water applications and more.

A-T Controls Butterfly Valves are designed to comply with MSS-SP-67 and API-609 and are tested to comply with API-598 standards.

They are compatible with ANSI 125/150 flanges.
Features
Each body is cast, precisely machined and epoxy-coated to meet rigid tolerances. 
Multiple seat and disc material options are available to meet a wide variety of process applications. 
Square Stem design facilitates direct mounting of actuators. 
Each stem is machined to fit tightly into the upper disc for smooth operation and minimal hysteresis. 
Bushings are available in PTFE and lubricated bronze. Both are corrosion resistant with mimimal effect on valve torque. 
Specifications
Actuator Type
Gear Operator
Hand Operated
Spring Return
Approvals & Certifications
Disc Material
304 Stainless Steel
316 Stainless Steel
Aluminum Bronze
Nickel-Plated Ductile Iron
Nylon Coated Ductile Iron
PTFE-Coated Ductile Iron
PTFE-Coated Stainless Steel
Enclosure, Body Material
Ductile Iron
Stainless Steel
Flange Size - 10" (DN 250)
10" (DN 250) - 125#
10" (DN 250) - 150#
Flange Size - 1-1/2" (DN 40)
1-1/2" (DN 40) - 125#
1-1/2" (DN 40) - 150#
Flange Size - 12" (DN 300)
12" (DN 300) - 125#
12" (DN 300) - 150#
Flange Size - 14" (DN 350)
14" (DN 350) - 125#
14" (DN 350) - 150#
Flange Size - 16" (DN 400)
16" (DN 400) - 125#
16" (DN 400) - 150#
Flange Size - 18" (DN 450)
18" (DN 450) - 125#
18" (DN 450) - 150#
Flange Size - 2" (DN 50)
2" (DN 50) - 125#
2" (DN 50) - 150#
Flange Size - 20" (DN 500)
20" (DN 500) - 125#
20" (DN 500) - 150#
Flange Size - 2-1/2" (DN 65)
2-1/2" (DN 65) - 125#
2-1/2" (DN 65) - 150#
Flange Size - 24" (DN 600)
24" (DN 600) - 125#
24" (DN 600) - 150#
Flange Size - 3" (DN 80)
3" (DN 80) - 125#
3" (DN 80) - 150#
Flange Size - 30" (DN 750)
30" (DN 750) - 125#
30" (DN 750) - 150#
Flange Size - 36" (DN 900)
36" (DN 900) - 125#
36" (DN 900) - 150#
Flange Size - 4" (DN 100)
4" (DN 100) - 125#
4" (DN 100) - 150#
Flange Size - 5" (DN 125)
5" (DN 125) - 125#
5" (DN 125) - 150#
Flange Size - 6" (DN 150)
6" (DN 150) - 125#
6" (DN 150) - 150#
Flange Size - 8" (DN 200)
8" (DN 200) - 125#
8" (DN 200) - 150#
Flow Rate
0.2 to 7,114 m³/hour (0.9 to 31,320 gpm)
Materials of Construction
316 Stainless Steel - Lower & Upper Shaft
416 Stainless Steel - Lower & Upper Shaft
ASTM A-582 - Lower Shaft Retainer Pin
O-Ring Material
Buna-N - Lower Shaft & Upper Shaft O-Ring
EPDM - Lower Shaft & Upper Shaft O-Ring
Viton - Lower Shaft & Upper Shaft O-Ring
Ring Material
Steel - Shaft Keeper & Retaining Ring
Seat / Seal Material
Seat & Stem Seal: Buna-N
Seat & Stem Seal: Viton
Seat: EPDM
Seat: Neoprene
Seat: PTFE over EPDM
Stem Material
316 Stainless Steel
416 Stainless Steel
630 Stainless Steel
Stem Bushing: Lubricated Bronze
Stem Bushing: PTFE
Temperature Range
-20° to 325° C (-4° to 617° F)
Torque
145 to 28,020 In/Lbs - Dry
91 to 18,680 In/Lbs - Wet
UNF/UNC Connection
1/2"-13 UNC
3/4"-10 UNC
5/8"-11 UNC
7/8"-9 UNC