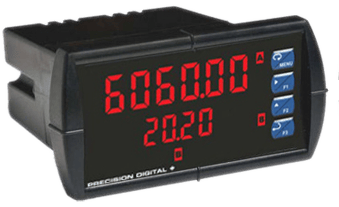 Images are representations only.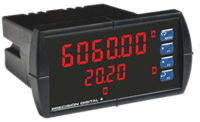 Specifications
Alarm
Unused Alarm LEDs & Relays May be Disabled
User May Program Any Alarm for High or Low Trip Point
Approvals & Certifications
Calibration
+10 Volts: Min. Span Input 1 & 2: 0.10 Volts
4-20 mA: Min. Span Input 1 & Input 2: 0.15 mA
Communication
Serial Communication Adapters
Deadband
0 to 100 % of Span
User Programmable
Display
Red LEDs
Upper: 0.60" High, Lower: 0.46" High
Electrical Connectors
Digital I/O
Removable Terminal Blocks Accept 12 to 20 AWG
RJ45 for External Relays
Isolation
4 kV Input/Output-to-Power-Line
500 V Input to Output or Output to P+ Supply
Mounting
1/8" DIN Panel Cut-out Required. Two Panel Mounting Brackets Included.
Operating Temperature
-40° to 65° C (-40° to 150° F)
Programming
Cloning Using Copy Function
Digital Inputs
Four Front Panel Buttons
Modbus Registers
PC & MeterView Pro Software
Rating
2 or 4 SPDT Internal and/or 4 SPST External Relays
Relay Operation
Automatic (Non-Latching)
Latching (Requires Manual Acknowledge)
Off (Disable Unused Relays & Enable Interlock Feature, Manual ON/OFF Control Mode)
Pump Alternation Control (2 to 8 Relays)
Sampling (Based on Time)